Community
Workforce Plan
The Austin Metro Area Community Workforce Plan lays out a common agenda and establishes a framework for collaboration to coordinate the efforts of the region's workforce development organizations and educational institutions.
Central Texas Healthcare Partnership
Healthcare Workforce Alliance of Central Texas
Challenge and Vision of the Community Workforce Plan
The strength of a community depends on the people that live in it. With rapidly rising costs of living threatening affordability, many Austinites are being pushed out of the community they love. In response to this crisis, Austin-area workforce development community based organizations, training providers, and employers created a Community Workforce Plan to help individuals living in poverty find a path to financial stability. By aligning education and training providers' training programs with employers' needs, this workforce plan will help 10,000 economically disadvantaged individuals secure middle-skill jobs by 2021.
What is the Austin Metro Area Master Community Workforce Plan?
What does the Master Community Workforce Plan mean to local workforce organizations?
What will success of the Master Community Workforce Plan look like in 2021?
An Electrifying Career - Albert DeLuna's Story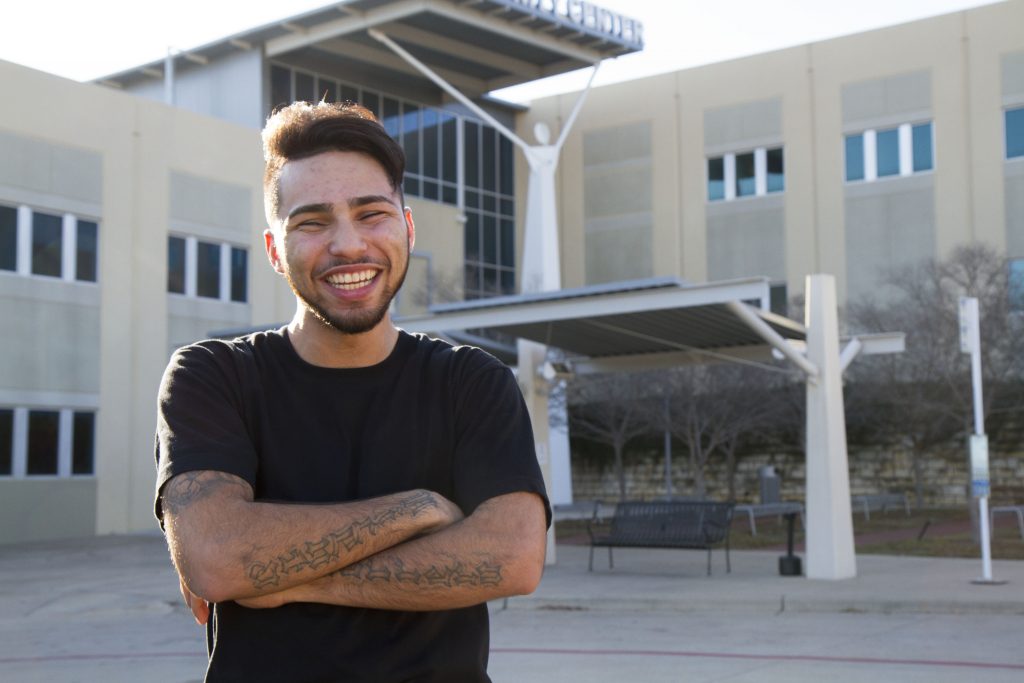 The Community Workforce Plan will focus on helping 10,000 economically disadvantaged individuals achieve financial stability and success through employment in middle-skill jobs. One such individual, Albert DeLuna, has received services from multiple community-based organizations and training providers and is flourishing in his job with Samsung Austin Semiconductor. Albert overcame an upbringing in the foster care system and a criminal background to obtain his GED through Goodwill, using Workforce Solutions' WIOA Youth funding. After taking classes at Austin Community College, he obtained an internship and, ultimately, secured full-time employment with Samsung!
Click here to learn more about Albert's inspirational story, and click here to watch a video in which he describes his journey to success.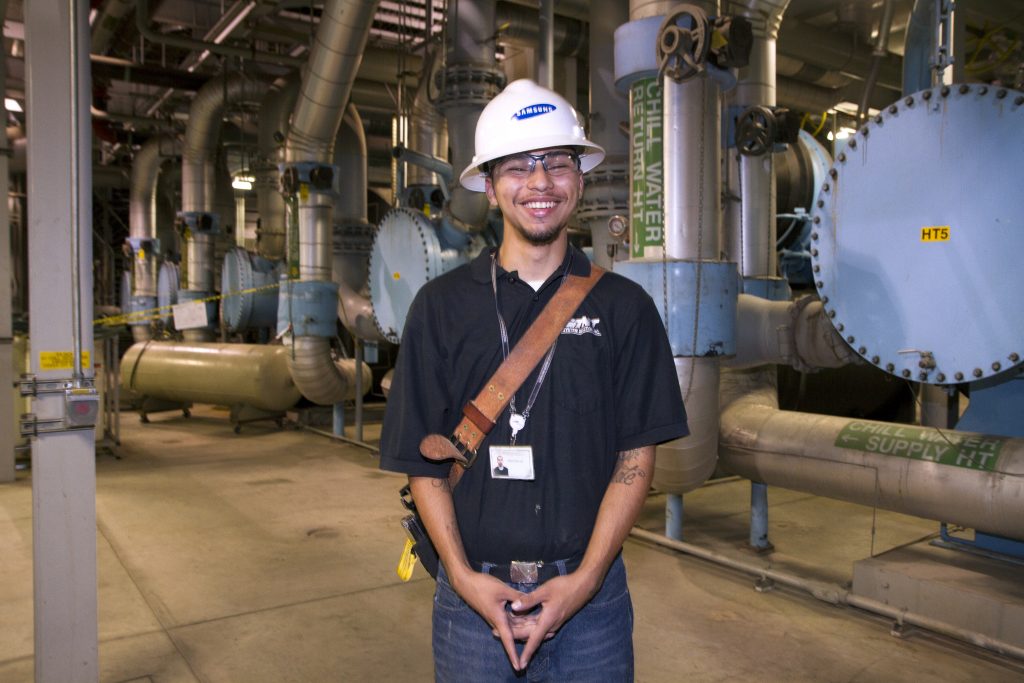 How Can You Get Involved?
There is no one way to get involved. From participating in job fairs, mentoring and hiring economically disadvantaged workers, there is a role for everyone! Please see below examples to illustrate methods and different levels of engagement.
Community-based organizations; training providers; and employers of all sizes, interests, and capacities can:
CULTIVATE INTEREST IN HIGH-DEMAND CAREERS
EQUIP WORKERS WITH THE SKILLS THEY NEED TO SUCCEED
CONNECT EMPLOYERS WITH LOCAL TALENT
RETAIN & ADVANCE SKILLED WORKERS
PARTNERING WITH LOCAL LEADERS
Invite speakers to present to groups
Design program to use instructors on-loan to expand teaching capacity
Partner with employers to provide opportunities to engage with prospective employees
Place clients in apprenticeships

Seek input from industry partnerships

 

Organize field trips that include facility tours and job shadowing days
Incorporate the latest equipment into training programs

Encourage clients to utilize talent portal

Assist youth in finding summer employment
Assist clients in securing paid internships
Help employers access training grants and other support for on-the-job training
Participate in campaign to raise awareness of careers in key industries
Match scholarships from employers for training programs

Help connect clients with local employers

Provide a match for employer-sponsored tuition assistance
Collaborate with other workforce partners
Host or support career navigators
Central Texas Healthcare Partnership
Mission
The mission of the Central Texas Healthcare Partnership is to sustain and grow the Central Texas healthcare industry while expanding pathways to good jobs for local residents.
No Display
Who We Are
The priorities and strategies of the Central Texas Healthcare Partnership are directed by a Leadership Committee comprised of representatives of our three founding member organizations:
Baylor Scott & White Health
Seton | Ascension
St. David's HealthCare
The work of the Partnership is made possible by the generous financial support of our donors:
Michael & Susan Dell Foundation
JPMorgan Chase & Co.
Seton | Ascension
St. David's Healthcare
Additional support was provided by the Texas Workforce Commission.
Backbone support for the Central Texas Healthcare Partnership is provided by Workforce Solutions Capital Area.
Vision
We envision an industry-wide partnership that provides a table for Central Texas healthcare companies to come together to:
Facilitate coordinated action to address joint workforce challenges and realize shared opportunities.
Share a forum for joint learning, networking, and information sharing.
Values
Industry Led: The Partnership is intentionally structured as an industry-led organization in order to help ensure that the group's efforts are driven by real-world labor market conditions.
Collaborative: The Partnership will provide a forum for business leaders to come together with community partners from K12, higher education, community-based organizations, public agencies, and industry groups to jointly develop solutions and explore ideas.
Data Driven: The Partnership will use data to establish priorities and to evaluate the success of Partnership initiatives.
Solutions Focused & Action-Oriented: The Partnership will focus its energy on projects that offer concrete and timely opportunities for industry and community partners to advance the Vision and Mission of the partnership
News + Events
CTHP Releases 2019 Strategic Plan
January 23, 2019
On behalf of the CTHP Leadership Committee, we'd like to thank everyone who has been involved with the Partnership over the past year. We're incredibly grateful for the time, expertise, and insights many of you have shared. We've learned a lot in our first year of work together, which we think you'll see reflected in the 2019 Strategic Plan developed by our Leadership Committee. A few important highlights that we want to bring to your attention:
Resources + Research
This page contains a list of resources for healthcare leaders (and their community partners) interested in exploring lessons learned and promising practices from across the nation.
Know of a great resource you think we should add to our list? Please contact us at info@wfscapitalarea.com.
Interested in learning more about the work of the Partnership? Interested in learning more about our work or attending an upcoming event? Please contact us at info@wfscapitalarea.com.
Healthcare Workforce Alliance of Central Texas
No Display
Our Mission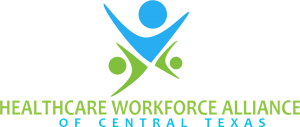 The Healthcare Workforce Alliance of Central Texas (hwACT) is a community-sponsored and industry and education led group that exists to collectively address the workforce needs of the healthcare industry in Central Texas.
hwACT is a 501(c)(3) nonprofit organization.
hwACT utilizes a collaborative approach to close the gap between employer demand for a diverse, trained healthcare workforce and the workforce in need of training and preparation to enter healthcare fields.
Working through various committees, our work starts with engaging young people with an interest in health careers to pursue their dreams and includes direct support for programs through college.
The high school students attending our Nursing Academy also observe medical units at local hospitals as part of their high school course work. We coordinate clinical rotations for nursing and other allied health professions at local hospitals and develop and update community standards to support safety in rotations. Staff members also help with resource development and other strategies which support high school and college healthcare education programs.
About Us
Members
St. David's HealthCare
Seton Healthcare Family
Central Texas Medical Center
City of Austin
Travis County
Workforce Solutions Capital Area and Rural Capital Area
Texas AHEC-Capital Area
Capital IDEA
Austin Community College District
Concordia University at Austin Schol of Nursing
South University School of Nursing Austin Campus
Texas A&M University Health Sciences School of Nursing
Texas Tech University Health Sciences Anita Perry School of Nursing
Texas State University Round Rock St. David's School of Nursing
Universirty of Texas Austin School of Nursing
Austin ISD
Bastrop ISD
Del Valle ISD
Dripping Springs ISD
Eanes ISD
Hays ISD
Lake Travis ISD
Lockhart ISD
Manor ISD
Pflugerville ISD
Round Rock ISD
Leadership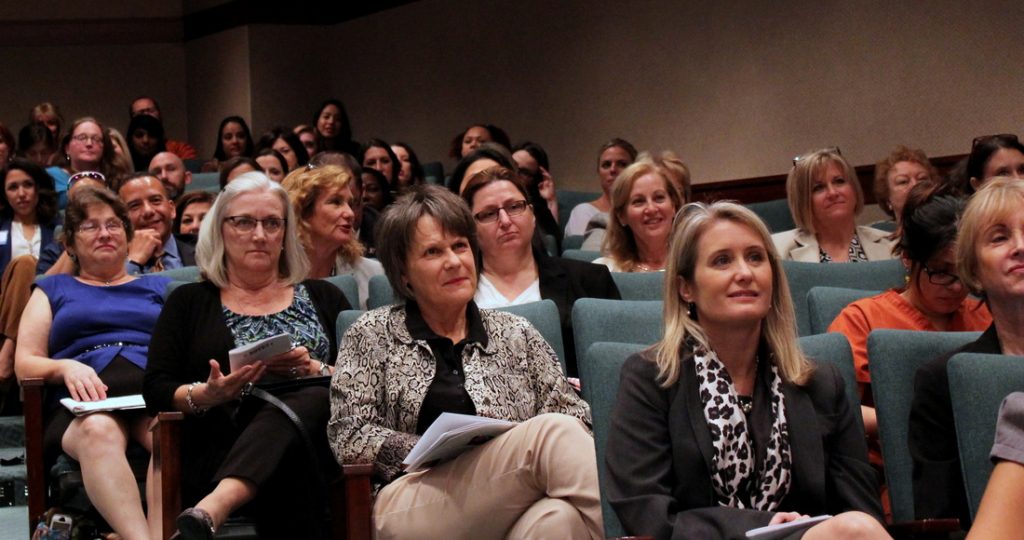 Board of Directors
Our Board of Directors oversees the work of the organization. Representatives include volunteers from both industry and education.
Co-Chairs
Geronimo M. Rodriguez, Jr.
Vice President, Advocacy and External Affairs
Seton Healthcare Family
Sheila Fata, BSN, MBA, RN, NEA-BC
Chief Nursing Executive
St. David's HealthCare
Secretary and Treasurer
Sally Foster, RN, BSN, MA
Academic Affiliation and Student Placement
Networking Nursing Education
Seton Healthcare Family
Education Representatives
Kathryn Lauchner, Ph. D., RN
Dean of School of Nursing
Concordia University Texas
Patricia Recek, MSN, RN
Executive Dean, Health Sciences
Austin Community College District
Nan Walters, MSN, RN
Assistant Dean, Health Sciences
Austin Community College District
Community Partner Representative
Steve Jackobs
Executive Director
Capital IDEA, Austin
Ex-Officio
Initiatives
We sponsor a number of member activities throughout the year. The following is a short summary of each effort.
Nursing Academic Practice Partnership Subcommittee: The latest collaboration among our clinical and higher education partners is maintaining our 15-year tradition of bridging the gap between education and practice. Alliances are forged and maintained in these meetings and support efforts to improve nursing education and the transition to practice both here in Central Texas and throughout the state.
Members of the committee are focusing on the perioperative nursing shortage. hwACT sponsored a pilot Surgical Nursing Academy at Austin Community College in January of 2017. Click here to watch a video of the academy. Future plans include a Perioperative Nursing academy that will include all member schools of nursing and hospitals.
Allied Health Subcommittee: This group launched its work by supporting the Austin Area Research Organization's Workforce Potential Project study. The group completed a survey to identify the demand for workers in a number of healthcare professions. This group is ad-hoc so no meetings are scheduled at this time, but please let us know if you would like to participate.
Central Texas Centralized Clinical Scheduling Subcommittee and Scheduling System: Using StudentMax(TM), our coordinator works with colleges and high schools to develop a coordinated schedule of placements which all members can access and view online. Please use our contact form to let our staff know if you are interested in viewing this tool and/or participating.
Community Standards for Clinical Rotations: Developed, implemented and updated by our Clinical Rotation Subcommittee, this initiative means that schools can comply with one set of standards for criminal background checks, uniforms, drug screening and more, and be in compliance with requirements at all of our clinical partner sites.
Nursing Academy: Cosponsored and staffed by volunteers from our higher education and high school partners, clinical partners, workforce partners and local Area Health Education Committee, this annual event is for students in local health science technology classes. Students submit an application and spend half a day learning about nursing careers, financial aid options and visiting with nursing students. The nursing students and volunteer nurses then accompany the students as they participate in hands-on simulationsin a local simulation lab.
Secondary School Subcommittee: This subcommittee provides a forum for high schools and local industry representatives to discuss the demand for workers in various health careers, to identify issues that impact capacity in local programs and to develop resources to address these issues.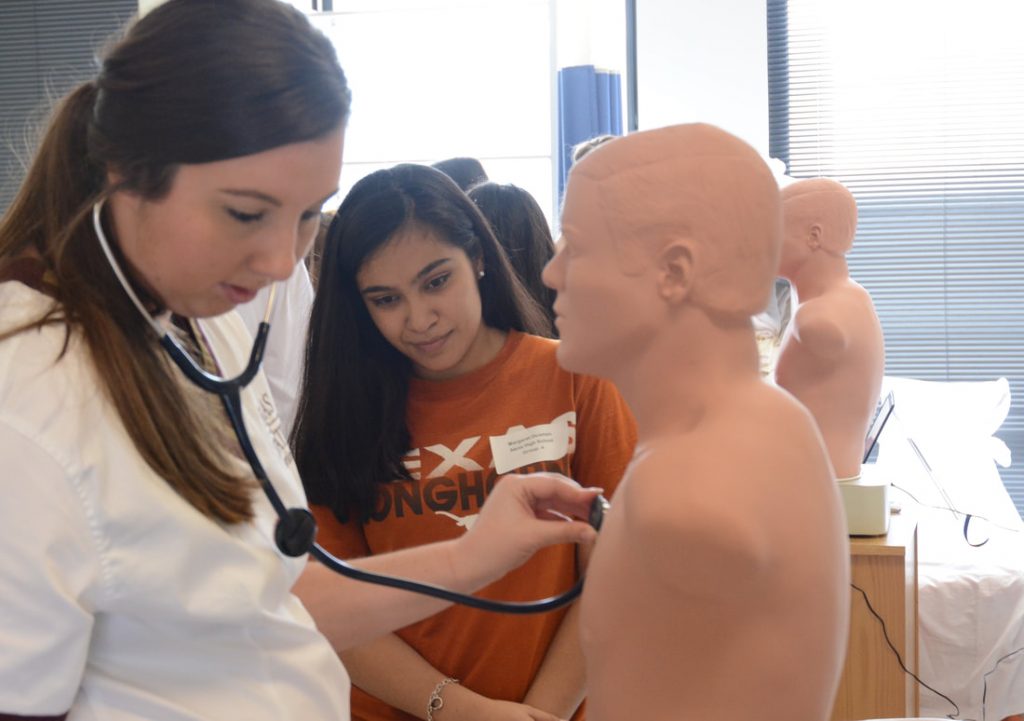 High School Teaching
Teach High School Health Science Courses in Central Texas Schools
Our Secondary School Subcommittee has identified a shortage of healthcare professionals, particularly nurses with bachelor's level degrees, as a barrier to growing or even maintaining their programs. High school students gain valuable insight into healthcare careers and some earn college credit or certifications.
If you have this level of training, enjoy working with young people, and are interested in a career change, teaching health sciences may be for you. School districts offer good benefits and holidays, often pay for certification, offer some incentives for experience and will work with you in making the career change.
We will post links to specific jobs as we receive them. In the meantime, we've listed the job sites for all of our member districts.
Please visit and explore a teaching career. Central Texas schools need you!
Austin Independent School District
Bastrop Independent School District
Dripping Springs Independent School District
Eanes Independent School District
Georgetown Independent School District
Hays Consolidated Independent School District
Leander Independent School District
Manor Independent School District
Pflugerville Independent School District
Membership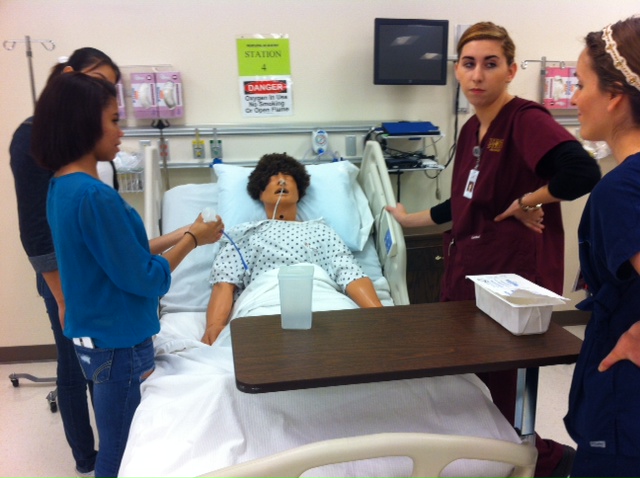 Industry
Industry partners benefit from participation in forums that inform the quality and availability of healthcare workers. The Alliance supports them by coordinating clinical schedules, developing community standards for placements, facilitating funding proposals, and providing forums for interaction with local schools, colleges and nonprofit organizations.
Education
We serve both secondary and post-secondary schools. Our work includes scheduling clinical rotations, sponsoring a nursing academy for high school students, providing staff support for events and supporting forums to connect industry and education.
Community and Government Organizations
The Alliance supports healthcare workforce efforts by connecting industry and education to the greater community. Both benefit from efforts to keep up with current trends and to predict future needs for healthcare workers.
Types of Membership
Affiliate Members are invited to attend semi-annual meetings and may participate in special projects by invitation. Meetings include educational presentations by local healthcare experts, data sharing and updates on industry and education partner initiatives.
Advisory Members are full partners in all projects, participate in the subcommittee structure, and enjoy the benefits of our clinical rotation scheduling system. For education members, this benefit is for those that have affiliation agreements with industry partners and corresponding staff support. Members may also receive staff support for research and grant writing.
Applications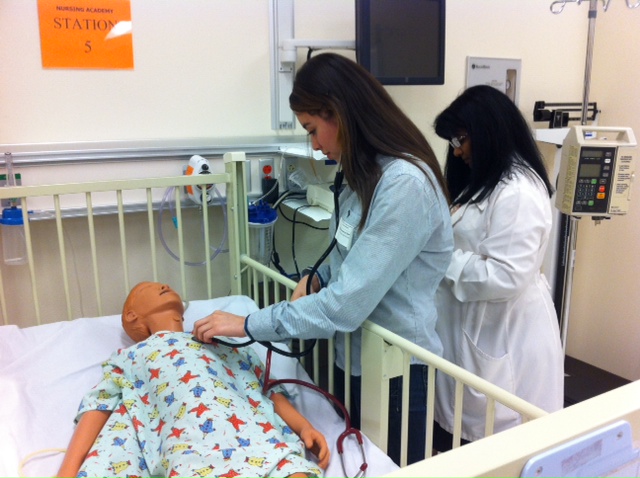 The Healthcare Workforce Alliance of Central Texas offers education experiences for students interested in healthcare careers. This year, hwACT is hosting two events for high school students in two career areas.
During these events, students will learn about the health career and what you need to do to start preparing for that future. There is no fee to attend either event, although space is limited so register today! High school students must be enrolled in 11th or 12th grade and currently be enrolled in a heath science course to be eligible.
Registration is now closed.
Career Spotlight: Surgical Tech
January 27, 2020
Austin Community College – Round Rock Campus
Nursing Academy
February 11, 2020
Texas A&M Health Science Center – Round Rock
Contact Us
If you need an immediate response, please call or visit one of our three Career Centers directly.