For Providers
Any licensed or registered provider of child care services in Austin/Travis County may apply to have a provider agreement with Workforce Solutions Capital Area Child Care Services.
Becoming a Provider
Any licensed or registered provider of child care services in Austin/Travis County may apply to have a provider agreement with Workforce Solutions Capital Area Child Care Services.
Three Basic Requirements to Become a Contracted Provider:
Requirement 1: Licensing and Registration To have an agreement to provide child care services, a provider:
Must have a current license or registration with the Texas Department of Health and Human Services (TDHHS), the United States Military Services, or the Texas Department of State Health Services (TDSHS) as a child care center, licensed day care home, registered family home, or a youth camp
Must not be on corrective or adverse action or corrective denial with these agencies
Must have established a satisfactory compliance history with these agencies
May not be an "Applicant Status" with Child Care Licensing
Note: We will also consult with other agencies such as the Child Care Food Program of the Texas Department of Health & Human Services to determine whether a satisfactory compliance history has been established. Requirement 2: Abiding by Terms of the Provider Agreement To have an agreement with WFS Capital Area CCS, a child care provider must:
Sign a provider agreement, which is also signed by a representative of Workforce Solutions Capital Area
Agree to abide by the terms of the provider agreement
Requirement 3: Attend a Program Orientation In addition to the agreement requirements, interested providers must schedule an individual appointment by contacting WFS Capital Area CCS.
Child Care Services News
Workforce Solutions Capital Area Child Care Services publishes a quarterly newsletter for our providers.
To be added to the WFS Capital Area CCS Newsletter distribution list, please email nicole.robinson@wfscapitalarea.com
Quality Improvement Programs
As part of our commitment to quality child care, Workforce Solutions Child Care Services offers quality rated programs, quality initiative activities and other community resources to child care providers who strive for quality.
Quality Rated Programs
Texas Rising Star Providers


The Texas Rising Star program is for child care providers who meet quality requirements that exceed the state's minimum licensing standards and that are designed to enhance the intellectual, physical, and social development of children in care. In return for their commitment to quality, providers receive numerous benefits including enhanced reimbursement rates, learning materials and equipment, child development college course scholarships, and more. Click here for more information on qualifying for the Texas Rising Star program.
Texas School Ready!™ Grant Project (TSR!)
Formerly known as TEEM-Texas Early Education Model, the TSR! Grant Project is a high quality early childhood model, based on proven school readiness components. This program is administered by the Children's Learning Institute (CLI).
Kindergarten Readiness System (KRS)
Formerly known as Texas School Ready Certification System (SRCS), KRS evaluates the effectiveness of prekindergarten, Head Start, and community-based licensed child care programs in preparing children for kindergarten.
Quality Child Care Collaborative (QC3)
The Quality Child Care Collaborative is a partnership between WFS Capital Area the City of Austin, Travis County, United Way Success by 6, and Austin Community College. The goal of the program is to help providers become Texas Rising Star Providers and meet other national quality standards. Participating providers will receive free mentoring and training, technical assistance, referrals, and resources.
Success By 6
In partnership with United Way Capital Area, Success By 6 is a community-wide initiative of public and private partners working together to ensure all children under age six are healthy, nurtured, safe, and prepared to succeed in school. For more information on Success By 6, please visit United Way Capital Area's website.
Technical Assistance to Providers
We offer child care providers access to a professional staff person with extensive knowledge of child care programs. Whether you need technical assistance in implementing quality program or addressing compliance challenges, our staff can assist you in your goal to become an outstanding child care provider. Please contact us at 512.549.4967, option 5.
Training Opportunities
We sponsor numerous training for child care providers throughout the year. Topics include Health & Safety, Infant/Toddler Care, Early Brain Development, Partnering with Parents, and Supervision 101. See Staff Training Section more information.
Child Care Director Symposiums
WFS Capital Area Child Care Services is the founder and co-host of the Child Care Directors Symposium, a two-day conference that aims to help child care directors learn important skills for business administration and quality improvement. The symposium is held in both the Capital Area and Rural Capital Area service delivery area and offer topics such as budgeting, evaluating staff, and time management. Information regarding upcoming symposiums is sent to all Travis county providers and surrounding Rural Capital area counties.
Wage Supplements The Jeannette Watson Wage Supplement Project is a salary supplement program. The salary supplement is intended as a means of identifying professionals who have furthered their education in Early Childhood Education or a closely related field. To be eligible, applicants must be working directly with children in a licensed child care facility and earning $14.00 or less per hour, and must have worked in their current facility for the past consecutive six months prior to initiating the application process. For more information, please contact us at 512.549.4967, option 5.
Community Resources
Through a collaborative with community and state organizations, we provide additional quality improvement programs to childcare providers. These organizations include Austin Community College, Institute for Child Care Excellence, Raising Austin, and Texas Department of Family and Protective Services.
Relative Care
Federal childcare regulations require Workforce Solutions Capital Area Child Care Services to allow parents to choose their child care provider. If a parent cannot find a suitable provider among our currently contracted providers, they can self-arrange child care with a relative. Relative Care Provider Requirements To qualify for funded child care, the relative care provider must meet certain eligibility requirements:
Relatives providing care must be 18 years of age or older and must be a grandparent, great-grandparent, sibling of the child (sibling cannot live at the same residence as the child); or be an aunt or uncle of the child.
Relatives providing care must be listed with Texas Health and Human Services (HHS) before services can be authorized.
Please review the Relative Care brochure. Visit Become a Child Care Home Provider for more information on how to become a licensed child care home provider with HHS. If you would like to discuss Relative Care, please contact us.
Training Opportunities for Staff
Workforce Solutions Capital Area Child Care Services is dedicated to helping area childcare providers deliver quality childcare. We sponsor numerous trainings for childcare providers throughout the year. Featured Topics Include:
Health & Safety
Infant/Toddler Care
Early Brain Development
Early Literacy
Guidance & Discipline
Transition Activities
Partnering with Parents
Professionalism
Supervision 101
Download a full list of upcoming trainings through September 2022 (pdf).
How Do I Register?
Training registration will open one month prior to the training month.
Registration is free.
Training is for Travis County child care providers.
Seating is limited.
Children are not allowed at training.
All trainings are virtual in response to the COVID-10 pandemic.
Confirmation, Cancellations and Reminders will be sent via email. Please ensure an email address is denoted for each attendee.
Only 10 participants per program will be allowed.
Click here to register for training If you have registered and are unable to attend, please be courteous and contact us at heather.pate@wfscapitalarea.com or (512) 597-7187.
Wage Supplement Information
The Jeannette Watson Wage Supplement Project, funded by The City of Austin, Travis County, and Workforce Solutions Capital Area Workforce Board, is a salary supplement program that is being administered by Workforce Solutions Child Care Services.
The salary supplement is intended as a means of identifying professionals who have furthered their education in Early Childhood Education and work with children from low-income families. This is an effort towards helping our valuable Early Childhood teachers and directors continue to work in a field where wages are not commensurate with other skilled positions.
All awards are based on experience in childcare and education level obtained. Award levels will be determined after applications are submitted. Supplements will be awarded based on available funding. Previous awards do not guarantee future payments.
Download the Wage Supplement Director Verification form
Please apply using our online application by clicking here. Prior to completing the application, please set up a TECPDS account to upload your transcript and paycheck stub. This must be done BEFORE your application is submitted. Completing this paperwork does not mean you are awarded.
Please note: All paperwork must be submitted online on or before March 4, 2022 at 5:00 p.m. to be considered. Please e-mail CCSJW@wfscapitalarea.com with any questions.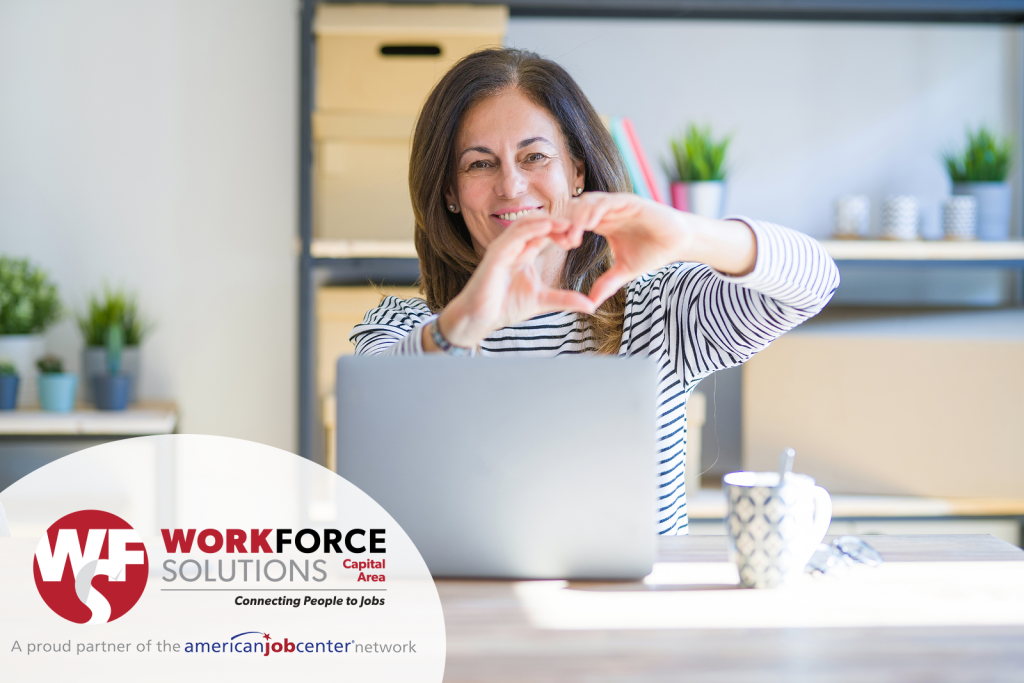 2021 Virtual Child Care Symposium
August 16 – 21, 2021
Opening keynote session and breakout sessions throughout the week for teachers, directors, and program administrators!

COGS (Cost of Goods/Services) Could Be Clogging Your Budget, with Astrid Laws Gulley
Understanding Sensory Processing Disorders from Autism to Attention Deficit Hyperactivity Disorder: Characteristics and Successful Strategies for Challenging Behavior, with Ashley Fairleigh
Conducting Performance Appraisals is a Process and the Objective is to be Fair, with Astrid Laws Gulley
Relationships are the Best Beginning: Enhance Your Teacher-Child Attachment, Diane Goyette
Sensory Soothers for Strong, Scary Feelings and Stress, with Diane Goyette
Covid-19 Updates and Childcare Guidance, with Austin Public Health
Creating a Professional Presence: Effective Childcare Parent Handbook and Business Contract Training, with Natasha Harris
Hosting a Positive Parent Conference, with Marilyn Kramer
Business Basics 101: How to Start & Operate a Successful In-Home Child Care, with Natasha Harris
Communication, Choices & Collaboration, with Ashley Fairleigh
Register for sessions on Eventbrite
PPE Distribution in Partnership with Austin Public Heath
August 19 + 20, 2021
8:00 am – 12:00 pm
Mexican American Cultural Center
600 River St︱Austin, TX 78701 (map it)
Reserve your pick-up time on Eventbrite
Questions? Contact us at ccsregistration@wfscapitalarea.com
Contact Us
If you need an immediate response, please call or visit one of our three Career Centers directly.