3-minute read
In this edition: Our new job posting analysis for Austin's construction industries shows continued demand for skilled workers, and how our partnership with Lone Star Construction Trades Training skills up local people to enter a career in the construction trades at no cost.
On our radar: Applied Materials, which supplies semiconductor manufacturers such as Samsung, is making a major expansion in Austin, building a roughly 724,000 square foot warehouse adjacent to its current Austin campus.
Applied Materials will add ten new, full-time positions through the project. The company also says the project will retain 490 jobs.
Staff makes an average annual wage of over $84,800. Managers earn an average of $191,200.
🎙️ "Through our relationship with Workforce Solutions Capital Area, Applied Materials has benefitted from a variety of programs that have helped to build and fill our pipeline of talent." — Mark Derderian, Global Manufacturing Training Institute Manager at Applied Materials. Read more.
📧 Were you forwarded this email? Sign up to receive my weekly updates here.
In partnership, Tamara.
---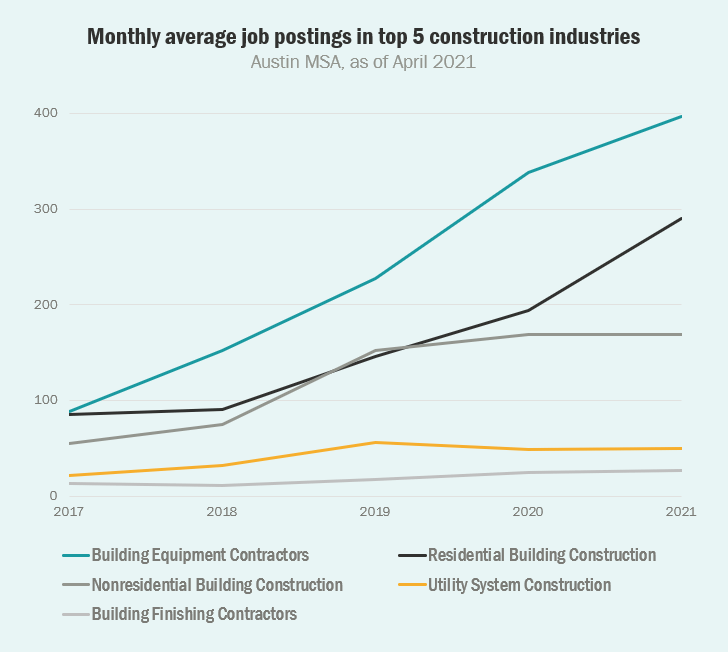 1. Austin's construction sector experiences continued demand for skilled workers
To gauge ongoing local talent demand of Austin's historically high-growth construction sector, we conducted a job posting analysis for its five major industries, looking at the last five years.
There is an uptick in recruitment for construction workers, with the highest demand from Building Equipment Contractors.

This industry comprises establishments performing activities such as pouring concrete, site preparation, plumbing, painting, and electrical work.

The second-largest uptick comes from the Residential Building Construction industry.
Why it matters: New commercial development in our region will require more skilled workers, while demand continues for current development and residential construction.
In a recent survey from commercial real estate services company CBRE, real estate investors rank Austin first among U.S. metro areas for investment prospects in 2021.

Austin knocked L.A. off its previous first-place perch. Dallas-Fort Worth comes in at No. 2, with L.A. at No. 3.

Austin again ranks as one of the ten best commercial real estate markets in the country, this time in a March ranking from the National Association of Realtors.
Yes, and: According to TWC, Austin's construction sector has had the highest percent change over the last year with a 5.7% job growth, or 4,000 jobs added.
The big picture: A JobsEQ projection over the next decade shows Austin's ten most in-demand trade and manufacturing occupations will be short 2,830 skilled workers, which does not take into account new jobs from more recent developments like the Tesla Gigafactory.
In other words, these jobs are projected to grow quickly, but since there are not enough residents earning certifications to meet the hiring demand, there is a shortage of talent.
---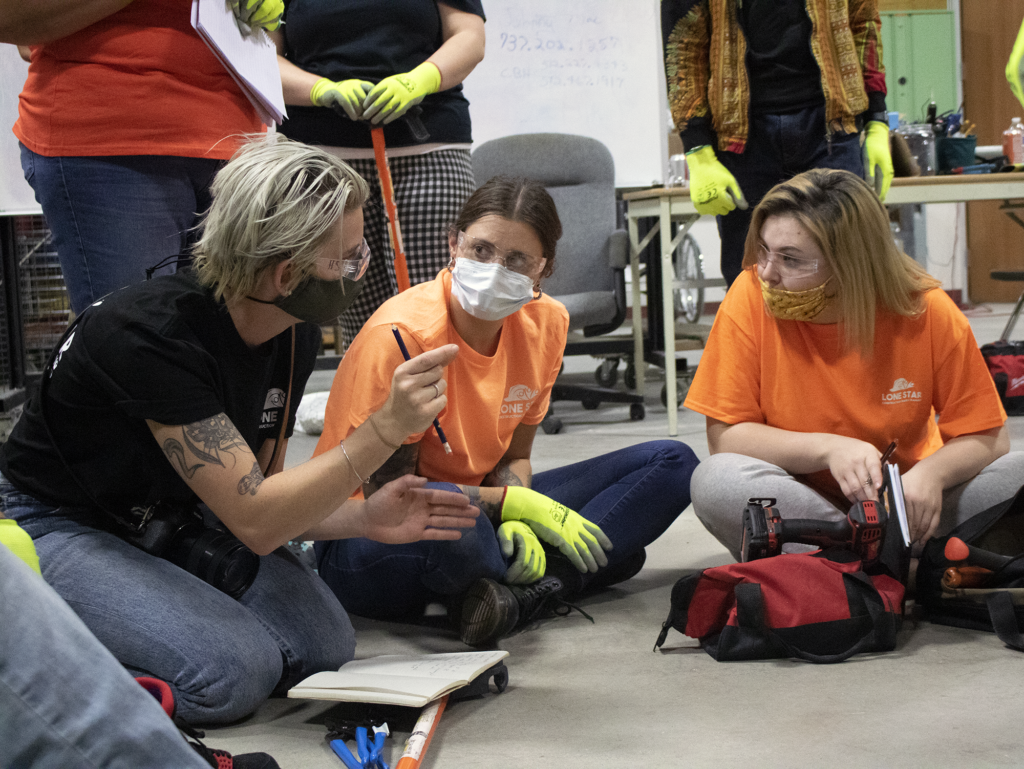 2. 'This is like shooting you straight to the job': 18 Austinites are becoming electricians with this no-cost opportunity
Electrician is an occupation growing in demand in Austin with an average entry-level hourly wage of $16.55. To help connect residents interested in the skilled trades, WFS joined Lone Star Construction Trades Training in March to host a five-day, 40-hour pre-apprenticeship class at the Austin Electrical Training Alliance.
Lone Star provides no-cost hands-on training for women, veterans, underserved populations, and men for a career in the construction trades.
They are a 501(c)3 owned and operated by Darcy Brennan and Rebecca Young, both Journeymen electricians with over 48 years of electrical trade experience.
Students first learn about safety, basic tools, and circuity and later tackle more complex installations like four-way switches, dimmers, and lighted receptacles.
Graduates earn a certificate from Lone Star, as well as their Texas apprenticeship license and their OSHA 10 license (paid for by Lone Star).
For a graduation gift, the students receive bags of tools, making them ready to begin working.
What they're saying:
Shane Mullen, who is hard of hearing, has lived in Austin for about two years and works at a lumber company. Shane's next goal is to join International Brotherhood of Electrical Workers Local 520 and become a journeyman.

"I have learned something new every day. I'm amazed at what I'm doing."

Krysta Willis was born and raised in Austin and has done general construction work. She sees Lone Star's training as an opportunity to begin skilled work right away.
"This is like shooting you straight to the job. It shows you what you will be doing."
"The fact that this is taught by other women is so great. This really makes it feel more inclusive and empowering to work with other women."
Rebecca Young, Director and Electrical Instructor at Lone Star: "You go through your apprenticeship and become a journeyman. From there, you have all these different paths to take—you can become a foreman, an instructor, an inspector."
What's next: Lone Star will host another class in Austin from June 14-18, 2021.