Local demand for workers in the transportation industry is projected to rise
Currently, there are 32,660 workers in the Austin metro Transportation & Warehousing industry. By 2030, there will be 40,000 workers, according to a JobsEQ 10-year projection.
Of note: This forecast does not include the swell of skilled transportation — and trades — workers needed to carry out projects related to the infrastructure bill and local transit expansions.
The sub-industry with the greatest demand is General Freight Trucking, according to Labor Insight.
The highest-demand occupations within General Freight Trucking fall under the Transportation and Material Moving category, which includes heavy tractor trailer drivers, cleaners of these vehicles, bus drivers, and vehicle system inspectors.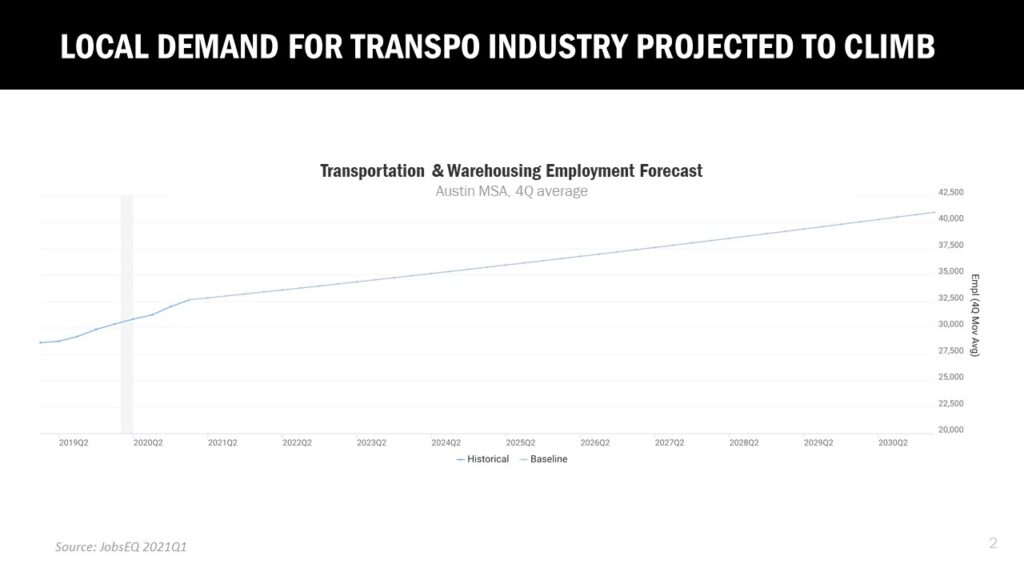 According to a Workforce Solutions Capital Area (WFS) analysis, for transit-related occupations, there is 3x more hiring demand in the Austin metro than the supply of unemployed talent in Travis County, which is the agency's service area.
Jobs within the Transportation and Material Moving industry include heavy tractor trailer drivers, cleaners of these vehicles, bus drivers, and transportation vehicle system inspectors.
Jobs within the Installation, Maintenance, & Repair industries include maintenance and repair workers, auto technicians, and truck mechanics and diesel engine specialists.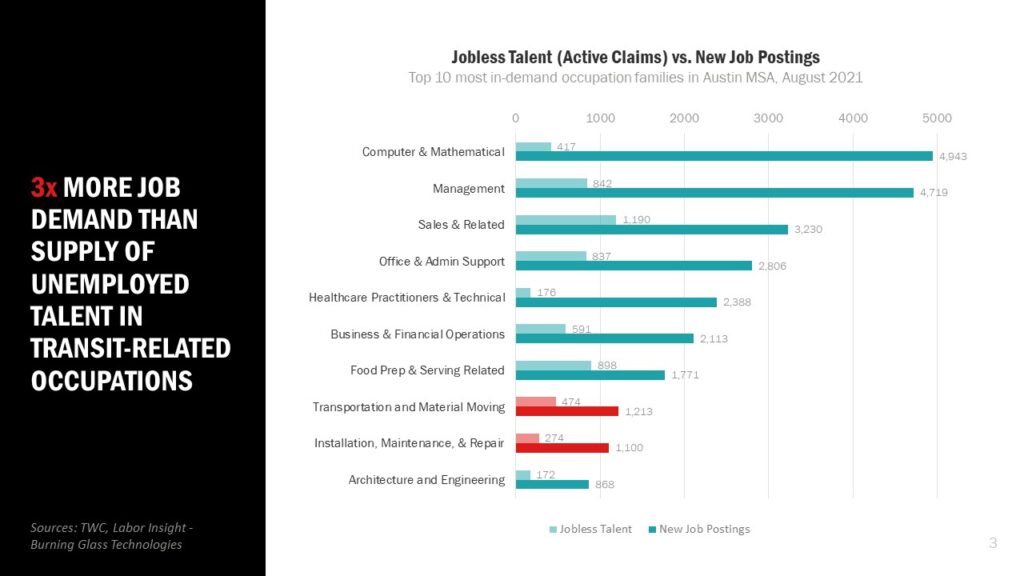 Key ways WFS is helping meet transportation industry demand…
WFS continues to fund training for direct and related transit occupations, including truck drivers and mechanics.

Training providers we partner with include Austin Community College, Goodwill, Community Truck Driving School, and Changing Lanes.
In FY20 and FY21, WFS enrolled 331 skilled trades and transportation trainees in our programs.

WFS has partnered with two transit companies — honored as Upskilling HEROES last year — for Incumbent Worker Training grants.

Austin Western Railroad — Watco Companies seized the opportunity to grow their employees through a career ladder approach adapted to complement their company culture.
Arrive Logistics is training their staff to meet increased operations and shifted workloads to deliver PPE products.
Bottom line: Qualified workers earn what they learn, and employers are willing to pay for workers with the right skills. For those residents motivated to take these positions but lacking the required skills, WFS can assist residents to move higher—into higher-skilled jobs offering higher wages with local employers.