3-minute read
Good afternoon Austin friends,
In this edition —1 big thing: A look at our 2020 Impact Report, highlighting our most significant accomplishments together during this historic moment.
Good news: Last month's labor market activity ranks Austin at No. 2 for reducing job losses among major U.S. metros, behind only Salt Lake City.
The Austin metro gained 14,700 jobs last month, improving the region's year-over-year job loss to 1.3%, according to TWC data.
Where other Texas metros rank: According to Austin Chamber's analysis,the San Antonio and Dallas metros also ranked in the top 10 at No. 4 and No. 6, respectively. Fort Worth's loss of 3.3% ranks No. 13. Houston's 5.5% deficit ranks No. 26.
🎙️ "I encourage companies new to Austin to get engaged and help sponsor the next generation of local talent. This pandemic has worsened existing socioeconomic disparities. Integrating and investing time, energy, and funding with the nearby academic community pays long-term dividends for employees and companies." — Jason Kelley, managing partner of Global Strategic Partnerships at IBM, speaks on the need to invest in high-demand career-prep programs, including those through Workforce Solutions Capital Area. Read more.
Were you forwarded this email? Sign up to receive my weekly updates here.
In partnership, Tamara.
---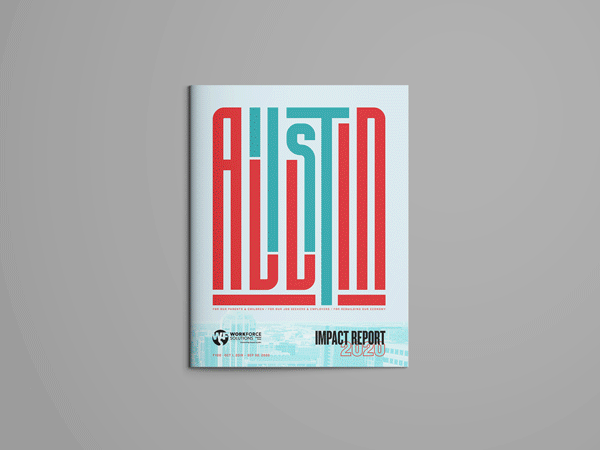 1 big thing: See what we did together
When the economic impacts became real for many in Austin last spring, Workforce Solutions Capital Area launched into overdrive. Our 2020 Impact Report highlights our hard work and partnerships that have helped make our region's recovery possible.
The big picture: Workforce Solutions Capital Area became the first responder for employment in Austin-Travis County in 2020.
In a matter of days, a declining unemployment rate that had lasted for years spiked into the double digits due to COVID.
Unemployment has disproportionality impacted Austin-Travis County's already challenged groups.

This includes persons of color, the younger, those with less education than an associate's degree, workers previously in "face-to-face" hospitality jobs, and low-wage workers.

WFS quickly pivoted to a virtual space to assist all impacted members of our community — students, workers, parents, businesses, and more — safely and effectively.
WFS by the numbers:
2020 highlights:

$4.3M in enhanced reimbursement funds distributed to help child care providers stay open and address increased operating costs
$3.1M in City of Austin and Travis County funding invested in Phase 1 of RE:WorkNOW, helping COVID-impacted, lower-income jobless residents complete a rapid training program and receive a weekly stipend with more supports available to bridge the gap.
Every one of the 162K+ jobless benefit claimants in Austin-Travis County contacted by staff to offer our re-employment and related services
23K+ students reached in 5 ISDs and 25 campuses to introduce students to career programs and postsecondary education options
722 total adults and children experiencing homelessness served

Last 5 years:

16,292 Travis County residents were directly supported by WFS, indirectly impacting 41,927 family members and 17,698 children
93% employment rate for laid-off workers
$317M total post-program wages earned by our customers
▲$103M total post-program wage increase compared to pre-program earnings
▲$9,807 average post-program wage increase per customer
What they're saying:
Senator Sarah Eckhardt: "Workforce Solutions has been an integral part of Austin's economy for years, and never more so than during this past year."
TWC Chairman Bryan Daniel: "I sincerely appreciate Workforce Solutions Capital Area's commitment to community-wide goals as they work to efficiently and effectively help get Texans more skills that lead to higher earnings."
Travis County Judge Andy Brown: "Travis County is excited to continue supporting Workforce Solutions in their work to rapidly empower people in this new economy."
Austin Mayor Steve Adler: "Workforce Solutions has a proven track record of success in linking local people to local jobs and assisting our most vulnerable residents, including lower-income Austin residents and those who are experiencing homelessness."
Nikki Graham, Austin Market President, Bank of America: "At Bank of America, we see Workforce Solutions as a critical partner in the effort to build and maintain the workforce we need to keep Austin vibrant."
❗ Bottom line: Day in and day out, WFS provided a person, a plan, and hope that together we would not only get through, but improve our systems to benefit more of our neighbors.
⏭️ What's next: As our local economy recovers and more companies call Austin home, this means more jobs. But the jobs with long-term earning potential require skills.
We're here to train residents for the jobs of today, and Workforce Solutions is the hub for connecting people to these jobs.
WFS' proven training effectiveness: In 2020, WFS training programs net a 3-fold return on investment ($3.59 for every dollar invested in training).