As cases of respiratory illnesses spread across the Austin metro, the importance of providing quality child care in a safe environment becomes all the more important. To support our providers, Workforce Solutions Capital Area and Austin Public Health hosted curbside pickup events for providers to receive cleaning supplies and at-home testing kits for COVID19 at no cost on December 9 and 10 at the Rosewood-Zaragosa Neighborhood Center.
Over the two days, we distributed 20 pallets' worth of supplies to 134 providers. These included 1,600 cans of spray disinfectant, 620 buckets of disinfectant wipes, 760 bottles of hand soap, and 620 cases of gloves. Austin Public Health provided hand sanitizer, masks for adults and children, gloves, and at-home testing kits for COVID19. These providers care for 7,431 children across Travis County.
One of the providers was Shannon Saldana at Austin Community College Children's Lab School. This full-day, year-round early childhood program has 12 full-time and 15 part-time staff and cares for 44 children.
"I was excited because we are running low and it's hard to find masks and gloves sometimes," Shannon said. "The cost of things has gone up, so finding the little things and not having a high cost or a long wait time is helpful."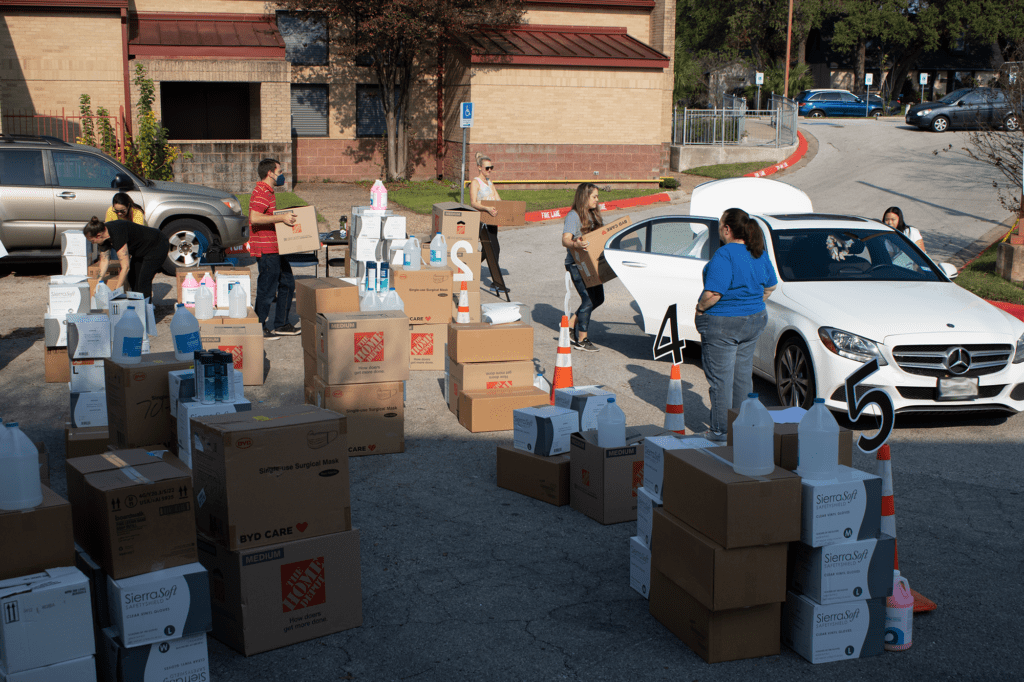 For Sharon Knight, director of Tarrytown Children's Center, the rising costs of necessary supplies has been an ongoing challenge for her 14 staff to care for the 56 children at their center.
"I am so happy that someone is thinking about child care and the larger picture, instead of us trying to scrape together, ask parents for more, and try to dig into our funds," Sharon said.
"This has really saved us during this three-year period, and I honestly don't know what we would do without it because finding supplies has been almost impossible. I am very appreciative of what Workforce Solutions does," said Sharon.
Tarrytown Children's Center is a 4-star rated provider in the Texas Rising Star program, the highest rating available. The Texas Rising Star program is for child care providers who meet quality requirements that exceed the state's minimum licensing standards and that are designed to enhance the intellectual, physical, and social development of children in care. In return for their commitment to quality, providers receive numerous benefits including enhanced reimbursement rates, learning materials and equipment, child development college course scholarships, and more.
Workforce Solutions Capital Area is committed to supporting providers in Austin who care for the children of our region's workforce. By providing care in a safe and nurturing environment, Austin's child care providers are helping to develop a future workforce that is skilled and productive. Learn more about how we support child care providers.