3-minute read
In this letter: Central Texas employers are not just growing their workforce, they're growing their workers' skill sets as well.
ICYMI: Many industries in Central Texas are ramping up demand for workers. We talked with KVUE about which occupations are hottest, the skills employers require to start working them, and how WFS can assist residents with catching career opportunities.
Skilled trade jobs are in high demand, as more properties are being built in Austin.
Manufacturing and truck driving positions are also needed due to the increase in online shopping.
WFS offers many trainings and hiring events to connect residents to employers hiring now. Know a friend, family member or neighbor searching for work? Invite them to visit us!
Were you forwarded this email? Sign up to receive my weekly updates here.
In partnership, Tamara
---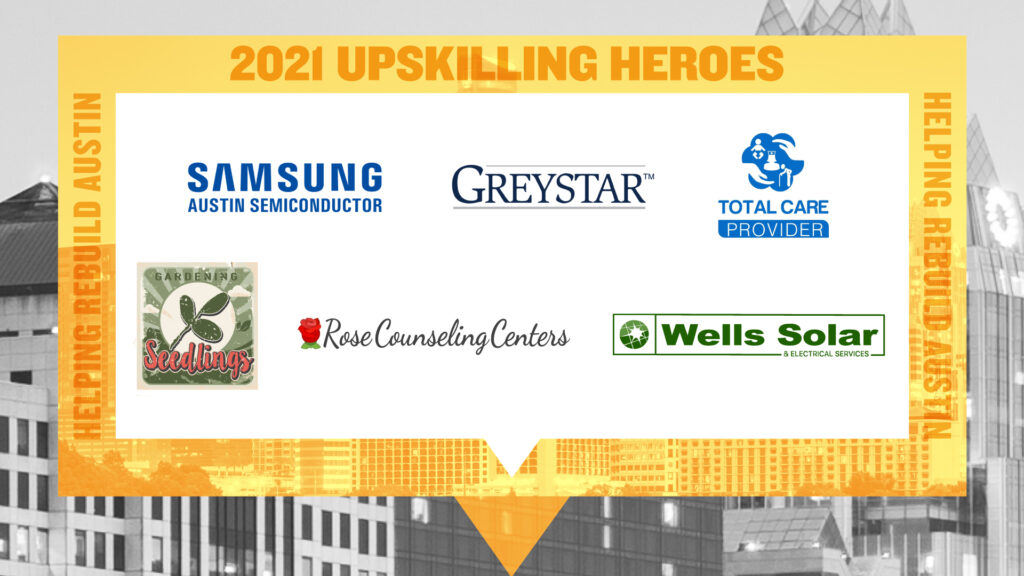 1. Workforce Solutions Capital Area recognizes companies for investing in employees' professional development in the 2nd annual Upskilling HEROES Awards
Workforce Solutions Capital Area (WFS) partners with over 3,000 local businesses to invest in workforce development efforts in Central Texas. For building a higher-skilled workforce and a more competitive economy, WFS awarded six Austin area businesses as the 2021 Upskilling HEROES of Central Texas.
This year's awardees are:
Greystar Real Estate Partners
Recover Or Sacrifice Everything (ROSE) Counseling Center
Samsung Austin Semiconductor
Seedlings Gardening
Total Care Provider
Wells Solar & Electrical Services
By the numbers: Between these six companies, a total of 3,429 employees were upskilled, helping them upgrade their skill sets, earn higher wages while employed at the company, and remain competitive in the local workforce.
Why it matters: Many employers in our region are confronting unprecedented challenges in recruiting, retaining, and developing a skilled workforce.
To overcome these challenges, Austin companies are leading the way by implementing upskilling strategies that provide pathways for long-term economic growth for their business, employees, and community.
Companies are eligible for the award by participating in the annual Austin-Travis County Upskilling Survey, where WFS tracks companies that are increasing employee wages above $58,000 per year to get a pulse of the region's economic health.
By understanding the landscape of existing upskilling efforts, the Capital Area workforce board can demonstrate return on investment and advocate for additional funding to support local workforce development efforts.
To begin upskilling or to learn more about the Upskilling Survey, visit our website or shoot me an email of interest.
---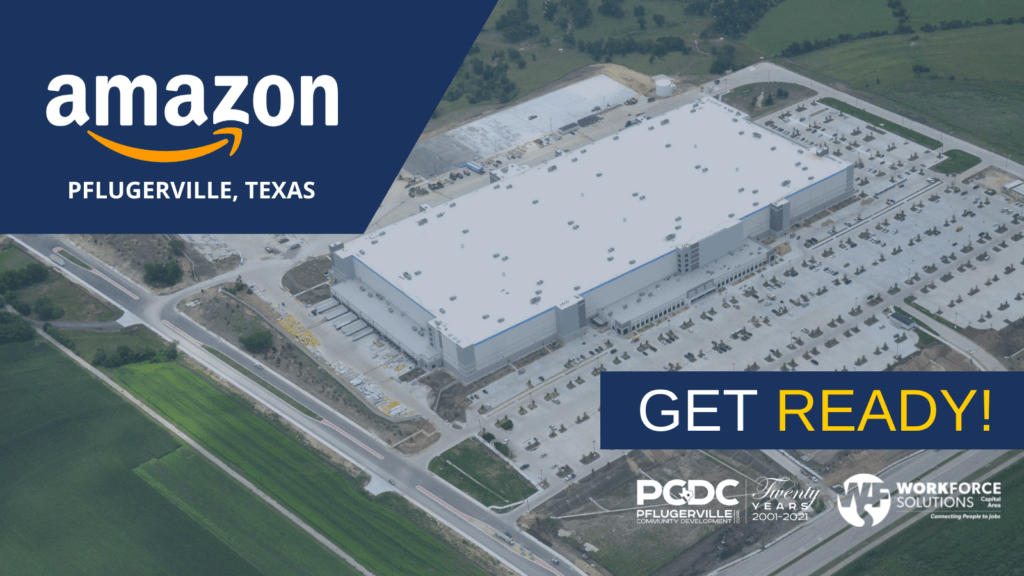 2. Watch: Amazon to hire 1,000 for new facility in Pflugerville
Amazon is preparing to open its new facility in Pflugerville (all 3.8 million square feet of it) and will need 1,000 full-time employees.
Positions will play an essential role by working alongside high-tech robotics to ship items to Amazon distribution centers throughout the country.
Wages begin at $15 hourly and full-time employees receive comprehensive benefits.
ICYMI: The Pflugerville Community Development Corporation partnered with WFS to host an information session on July 7.
Alongside the Amazon Workforce Staffing Team, we presented information to residents who are interested in applying for jobs at Amazon.