3-minute read
In this edition: The April jobs report underscores the need for child care, and how our Quality Child Care Collaborative (QC3) effort is improving the quality of and increasing access to child care for our most vulnerable children.
On our radar: On May 7, the Biden Administration said it is open to moving child care into the first phase of infrastructure investment if Democrats push for it.
The April jobs report saw women's employment fall, alarming many Democrats who now believe funds for child care should be moved from the second infrastructure package to the first.
The American Jobs Plan is the first part of the multi-trillion dollar investment proposal. It would provide more than $25B to the upgrade and construction of child care facilities.
The American Families Plan is the second part and would provide another $225B into the broader child care sector to go toward funding for providers, raising wages for workers, and improving child care affordability.
🎙️"If you added all of the women who've dropped out of the labor force since February 2020, the unemployment rate for women would be 8.1% instead of 5.6%." — Jasmine Tucker, the director of research at the National Women's Law Center, on how women's unemployment rate was driven down by women exiting the labor force completely. Read more.
📧 Were you forwarded this email? Sign up to receive my weekly updates here.
In partnership, Tamara.
---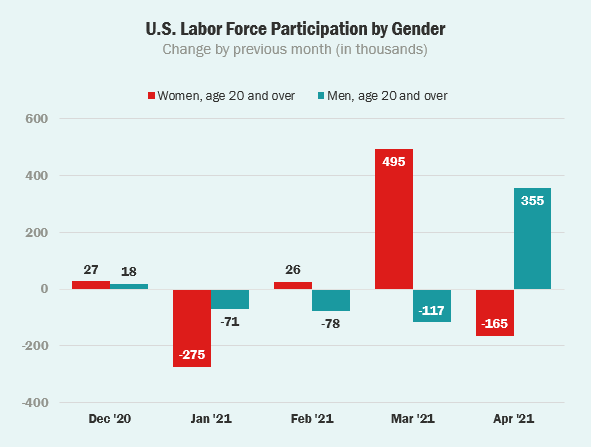 1. The April jobs report shows women are still struggling
The April jobs report from the Bureau of Labor Statistics came as an unpleasant surprise for many, with job growth numbers far lower than expected and unemployment rising.
Driving the news: The report also showed a bleaker outlook for women, who have continually shouldered a disproportionate impact from pandemic economic devastation.
U.S. labor force participation by gender, by the numbers:
More women dropped out of the labor force in April, underscoring the need for childcare.
As shown in the chart above, in the latest unemployment figures, 165,000 women who are at least 20 years old dropped out of the labor force from March to April.
The labor force participation rate for women also dropped slightly in April.
The participation rate for women who are at least 20 years old dropped by 0.2 percentage points in April and is still 2 percentage points below the rate in February 2020.
---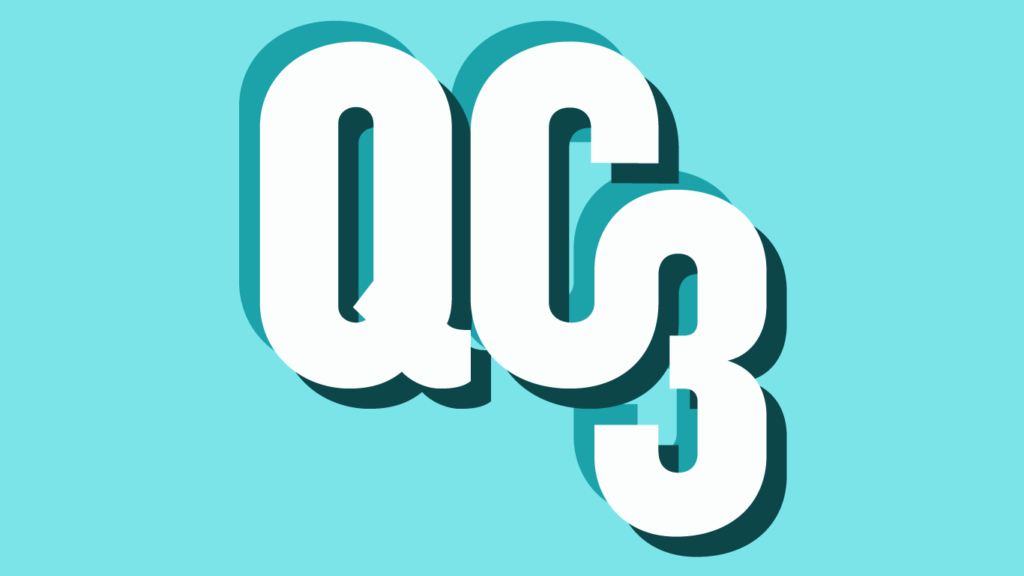 2. Quality Child Care Collaborative (QC3) effort improves the quality of child care for our most vulnerable children
At a time when child care is underscored as critical for workers to return to the labor force, supports provided through the Quality Child Care Collaborative (QC3) have been shown to positively impact Austin-Travis County parents and providers.
QC3 is managed by Workforce Solutions(WFS)in coordination with the City of Austin, Travis County, United Way Success by 6, Austin Independent School District, Austin Community College Child Development Department, and Head Start.
QC3 increases the quality of child care in the community by assisting child care facilities to:
achieve Texas Rising Star (TRS) certification and national accreditation, and
increase the accessibility of high-quality child care services to low-income children.
Why it matters: The child care industry has felt the effects of the pandemic. The sector has been pushed to the brink of collapse with increased costs and decreased enrollment, which forced many facilities to close.
The sector's struggles have had an outsize impact on Black and Hispanic women, who not only account for a large number of child care workers but are more likely to struggle to find child care for their own families.
Bottom line: As the foremost local, public funder of child care, WFS continues its work to support child care providers and families.
Supports we have offered have helped maintain the stability of providers in our system.
Through local investment, including through City of Austin and Travis County, QC3 supports include child care providers' professional development, wage supplements for early learning professionals, early learning resources and materials, parent cafes and info sessions, and more.
Yes, and: WFS can draw down additional federal funding for childcare services by matching local dollars invested.
From Oct 1, 2020 through Sept 30, 2021, WFS will draw down an additional $2,859,796 due to local matching investments made by our community partners.
Austin-Travis County, by the numbers (FY20):
5,846 children in WFS' care across Travis County with 387 child care providers contracted.
157 providers are Texas Rising Star (TRS) certified as of April 29, 2021.

About 50 providers achieved TRS certification through WFS during the pandemic.

1,284 providers and teachers trained and mentored through 93 trainings hosted.
297 children enrolled in the Continuity of Care program (funded by City of Austin and Travis County to bridge any gaps in eligibility for local parents).