Good afternoon, Austin friends and allies,
In February, Workforce Solutions Capital Area (WFS) and national union leaders partnered with Chris Gardner (whose story inspired the Pursuit of Happyness movie) to drive middle and high school students to explore apprenticeships in the building trades as they plan their careers.
I was honored to speak to Navarro Early College High School students as part of this program alongside workforce and apprenticeship advocates, including Austin Mayor Kirk Watson and Joe Cooper, training director at Plumbers & Pipefitters Local Union 286 and WFS board member. I would like to thank the American Federation of Labor and Congress of Industrial Organizations (AFL-CIO) and the National Association of Building Trades Unions (NABTU) for coordinating this great opportunity for our community's youth to learn about self-sustaining career options available right out of high school.
Today's update is 406 words — a 1.5-minute read.
---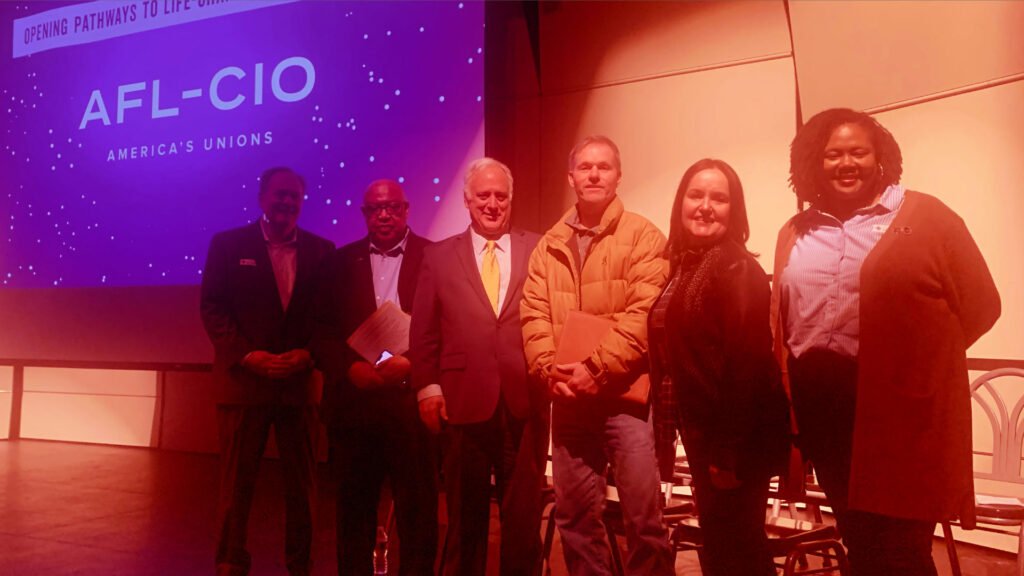 Making the 'Pursuit of Happyness' possible for students through pre-apprenticeship and focused outreach
Giving local students the support they need to enter "earn-and-learn" registered apprenticeship programs in the building and construction trades has proven effective at keeping up with the demand for workers, not just in Austin but across the US.
Why it matters: Austin's construction industry, which is predominantly male, has an aging labor force that will see many retire in the coming years.
Out of the 104,800 workers in Austin's construction industry:
Over 60% are between the ages of 35-64, 27% are 25-35, and only 10% are between the ages of 16-24.
Only 9.8% (or 10,285) are female.
To support our talent pipeline in the building and construction trades,outreach to underserved and underrepresented communities — such as graduating seniors and women — to enter training programs engages an untapped talent pool and expands the diversity of the industry.
One answer to this challengecame in 2018 when Austin launched the Multi-Craft Core Curriculum (MC3) pre-apprenticeship program, run by Local 286 and Workforce Solutions Capital Area (WFS). MC3 is a two-week hands-on, union-led program, providing participants an introduction to the basic skills in all of the trades.
Through MC3, WFS is actively training a younger workforce, including focused outreach to women to consider an otherwise male-dominated industry.
Our program graduates achieve their certification at no cost and are able to better provide for their families by starting a path to a more self-sufficient career. Since launching, the MC3 program has held 15 classes, serving 208 students with a 93% completion rate. All graduates are offered employment on graduation day.
Yes, and: Through WFS' dedicated K-12 outreach specialists, we also lay the groundwork in Travis County school districts before the job application process even begins. Our outreach specialists at Austin, Del Valle, Elgin, Manor, and Pflugerville ISD support middle and high school students with career activities in and out of the classroom, such as career exploration events, field trips to industry work sites, summer internships, and more.
By the numbers: In the three months from October through December of 2022, our K-12 outreach specialists served over 7,400 students.
Bottom line: WFS and our apprenticeship partners see the need to emphasize a broader outreach to women, students, underserved communities, and transitioning military veterans to expand the diversity of the national and local construction industry.
Know someone interested in trades but not sure which would be best for them? Have them visit our website and fill out our interest form.
---
I hope you found this communication helpful. Please reach out with any questions or topics you'd like to discuss.
✉️ If you were forwarded this email, sign up to receive my regular updates here.
In partnership,
Tamara