The COVID19 pandemic caused millions of people nationwide to experience food insecurity, including many families in Austin, where the most marginalized communities were disproportionately impacted. Providing families with an opportunity for food and financial security is Saffron Trust Women's Foundation, and they're doing it in partnership with Workforce Solutions Capital Area.
"Saffron Trust works to fight generational poverty by providing resources for women and their families who otherwise would not have access to them," said founder Phyllis Everette. "These include assistance with finding housing, advocacy for victims of domestic abuse, educational and employment opportunities, healthcare, mentoring, and food security."
Phyllis founded Saffron Trust in 2018. "Being a single mother and navigating with three children to find the resources we needed was a very difficult task. I built Saffron Trust to help remove the stigma around single motherhood and creating a one-stop-shop for a woman to receive all the resources they need," said Phyllis.
Saffron Trust employs 10 people with a team of six to 10 volunteers and consultants. Saffron Trust's partnership with Workforce Solutions began in late 2020, at one of the weekly COVID19 Food Access Coordination calls hosted by the U.S. Food and Drug Administration. Phyllis expressed a need for assistance in securing funding for Saffron Trust's staff.
At the time, Saffron Trust used the Shiftsmart platform to find hourly workers to assist with delivering food to families in need: "They filled the gap when it came to supplying the employees with financial security for the job they were doing. We had money earmarked from Shiftsmart to pay those salaries. But their grant ended sooner than anticipated and the food was coming in in droves," said Phyllis.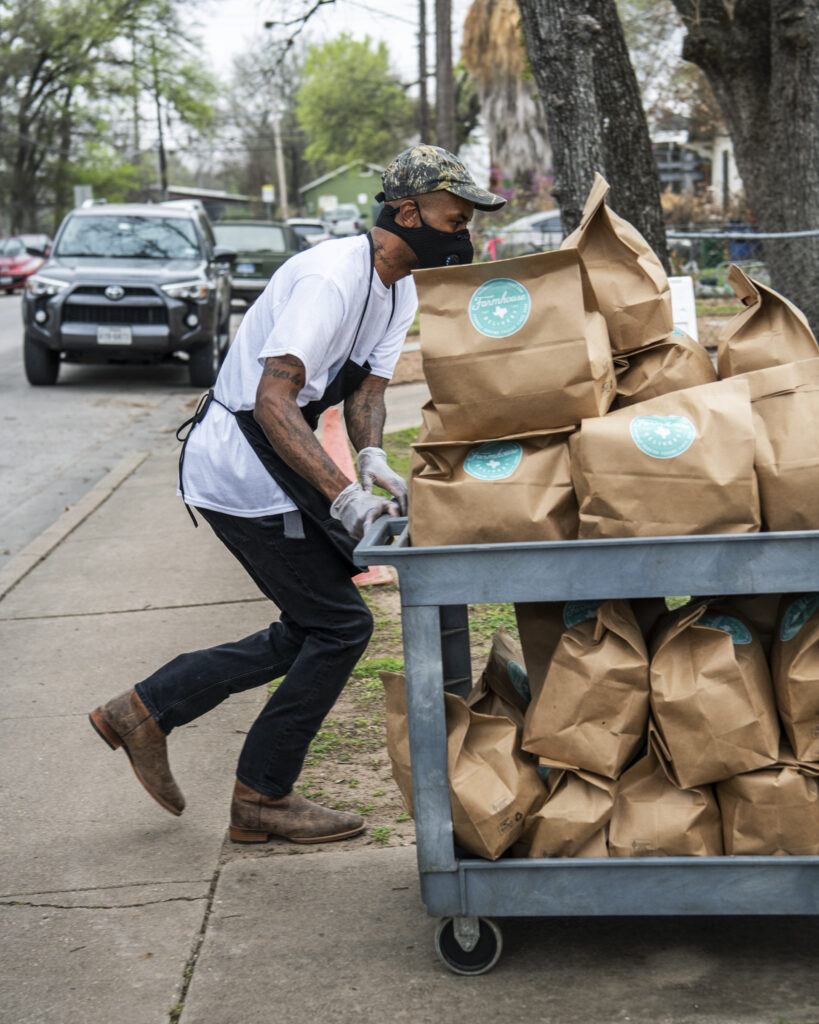 Working in a community that cares
Saffron Trust delivers meals to families in need—but they do more than just put hot food on plates.
"The food we are serving is not just food from the food bank—the chefs are high end and cook meals with nutritional value," Phyllis said. "Joi Chevalier at Cook's Nook creates food helping families to eat better, not less, and is scheduled to start preparing food as medicine to include meals focused on maternal mortality."
The preparation, delivery and service of meals involves five partners: the food is prepared at the Cook's Nook (a culinary incubator and a food business hub for entrepreneurs), Spirit or Tryhungry Delivery brings the food to the delivery sites (Mt. Zion Baptist Church and First Baptist Church Pflugerville), Saffron Trust serves the meals, and Workforce Solutions provides the wages.
"Five partners to feed one belly. It all comes together because Workforce Solutions allows us to. Workforce Solutions is the dominant piece in the partnership," said Phyllis.
Growing the partnership
In 2020, Workforce Solutions, began participating in the federal Disaster Temporary Relief Employment (DRTE) program to assist residents who had lost their jobs due to the pandemic.
DRTE provides dedicated funds to cities and states to help respond to the pandemic recovery effort. The funds help to offset payroll costs for organizations doing humanitarian work directly related to the pandemic, such as Saffron Trust. To help impacted residents find temporary employment with these organizations, Workforce Solutions began hosting regular virtual hiring events called Keep Austin Safe. Saffron Trust has participated in every event.
In late 2020, Saffron Trust had one location with six workers. By partnering with Workforce Solutions to hire temporary workers, the organization expanded to two more locations in January 2021.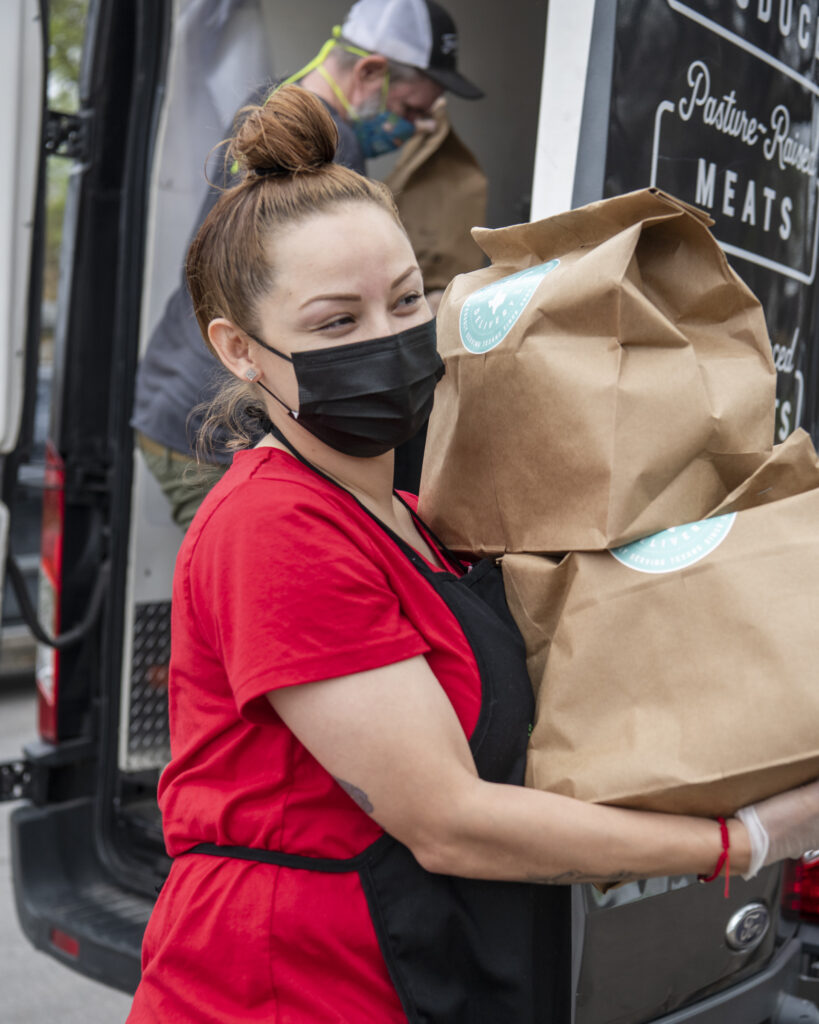 By joining in partnership, Workforce Solutions helped Saffron to employ 22 people to distribute 41,594 meals in January through June to feed over 10,000 families. "Our partnership with Workforce Solutions allowed us to boost economic opportunity for the families in a time of national crisis," Phyllis said.
According to Phyllis, because Saffron Trust is an active partner among other organizations, her relation to other nonprofits has ushered in a handful of sister nonprofits, doubling economic opportunities for families in the community.
"Workforce Solutions came in at a time where it was really needed. In December and January, we dealt with mental health issues and people misplaced because they lost their homes. Food and security needs were at an all-time high," Phyllis said.
"These resources, coupled with the emotional impact of having someone to assist in life's struggles, equip women and their families with the ability to enter a competitive workforce on an equal playing field," Phyllis said. "This in turn contributes to a growing workforce which maintains competitiveness in different industries."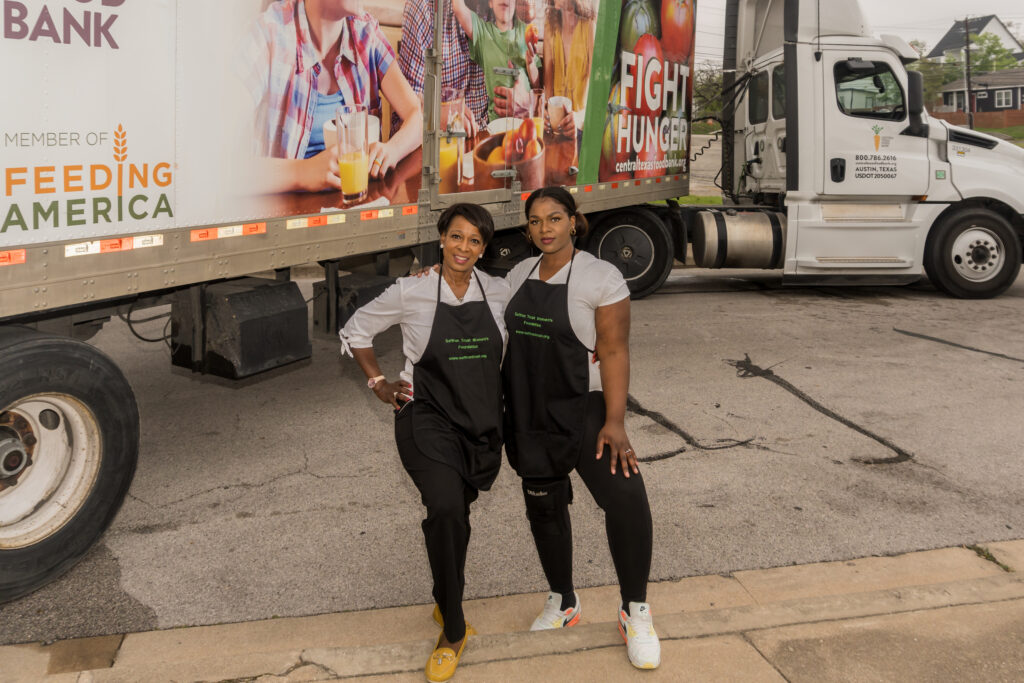 How the DRTE program benefits employers
Through programs like Disaster Relief Temporary Employment and others like it, Workforce Solutions helps connect residents ready to work with employers hiring now, and at no cost.
"The employment process Workforce Solutions had in place made the transition smooth for our organization and staff. The people at Workforce Solutions are efficient, organized, and passionate," Phyllis said.
"Workforce Solutions provided all of the employee management tools—onboarding, new hire documents, and more—that keeps our organization compliant with labor laws, which helps us focus on our main task: feeding families," Phyllis said.
"We would like to credit our great experience to the Workforce Solutions team of special program managers assigned to our program," Phyllis said. "They are members of the communities we serve and uniquely skilled to meet the needs of our program. They took a special interest in disrupting the forces of inequality that keep communities of color stuck in a cycle of poverty."
Phyllis added: "This work is intertwined with their work. They are passionate about the community—they know the language they are talking and the needs of the community and workers. They know the workers will make a difference in the community—when they serve the food, they serve it to their mothers, sisters and cousins."
Grow and strengthen your organization's talent with assistance from Workforce Solutions
Workforce Solutions connects local people to local jobs. We can assist your organization with growing your workforce and strengthening the skills of your talent with a variety of resources, all at no cost to you. Learn more here.