4-minute read
Good afternoon Austin friends,
Thank you for joining us on Wednesday, September 29 for our Hire Local – Higher All Around summit!
In this letter: Our virtual Hire Local Summit was just a few days ago, so thank you for joining us to celebrate together what we have accomplished under the Austin Metro Area Community Workforce Plan. Read on for event highlights and Plan achievements.
What to watch: The Austin Business Journal reports that hiring efforts are ramping up for Tesla's future vehicle manufacturing plant east of Austin. Tesla has 300+ job descriptions posted on its website, up several dozen compared with late August.
Yes, and: Each job description likely represents more than one job opportunity, and the positions listed on Tesla's website fall into a wide range of categories—engineering, manufacturing, finance, human resources, design and facility construction.
And, and: CEO Elon Musk has said the factory will need more than 10,000 people by the end of 2022.
I spoke with ABJ about how WFS Capital Area is helping Tesla find potential employees and preparing job candidates for interviews: "Workforce Solutions Capital Area has been partnering with Tesla to post and fill open jobs from the start … We understand that as their operations ramp up, so will the job openings. … Workforce Solutions supports all employers seeking talent, and we are pleased to be a significant partner with Tesla connecting local Austin residents to these local Tesla jobs."
Were you forwarded this email? Sign up to receive my weekly updates here.
In partnership, Tamara.
---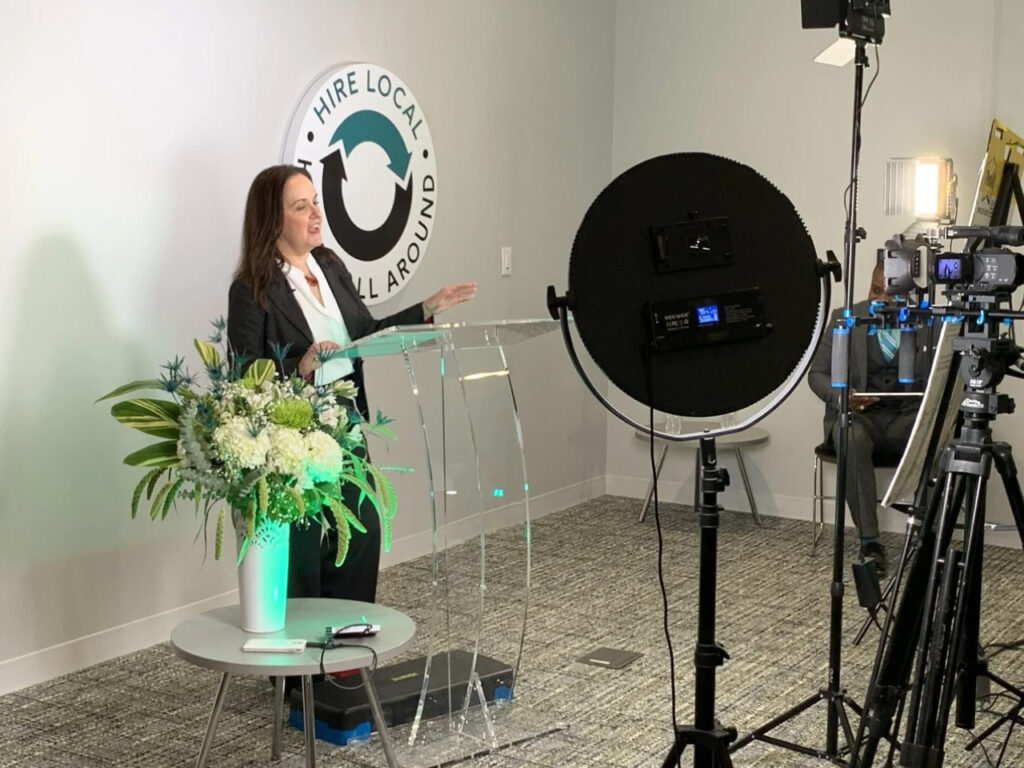 1. Hire Local Summit: Here is how we're making Austin 'Higher All Around'
Every year in September, we invite our partners and neighbors to join us for a comprehensive look at the progress of the Austin Metro Area Community Workforce Plan. At the Hire Local Summit on September 29, we discussed how 'Hire Local' means 'Higher Opportunities All Around' for Austin. Joining us was a virtual audience of hundreds:
261 Central Texans watched the Hire Local Summit live.
105 attendees shared their insights and ideas in the chat.
Plus, performances by local artists Henry Invisible and Lex Land, reminding us of what makes Austin's live music scene the best!
How has WFS Capital Area supported our community? We shared some of our achievements, including:
In 2020 alone, WFS Capital Area directly supported 16,292 Travis County residents.

We indirectly provided higher opportunities for 41,927 family members and 17,698 children.

We achieved a 93 percent employment rate for laid-off workers seeking employment and a 92 percent employment retention for families participating in our childcare program.
$4.3 million in enhanced reimbursement funds to childcare providers throughout the region.
23,000 students from 5 regional school districts supported with career programs and postsecondary education options.
🎙️ What our featured speakers had to say:
Melanie Flowers, Chair of the Capital Area Board of Directors: "We help train and connect job seekers with jobs. And for me, this is personal. I was raised right here in Austin. I went to school here and have worked in Austin my entire career. I love this community and am committed to seeing that all of our neighbors have the same opportunities that I had – and more!"
Rudy Metayer, Pflugerville City Council Member and event emcee: "We need to get a bird's eye view, look to the horizon, and make some flight plans for how we're going to get to our destination safely and with everyone on board. And, our plan needs to be ground-level practical and ready to go right now, while people need help and equal opportunities across our community."
Travis County Judge Andy Brown: "We must create new strategies to raise hope and expectations for everyone in Austin, Travis County, and surrounding areas. That's why the new phase of the Community Workforce Plan and the ideas and strategies that come out of it are so critical to our community."
Bryan Daniel, Chairman of the Texas Workforce Commission: "In the Austin area, we have more than 1.1 million employed people, and we've added 77,200 jobs this year alone. Workforce Solutions Capital Area is helping prepare job seekers for these new jobs."
Aaron Demerson, Commissioner Representing Employers for the Texas Workforce Commission: "Workforce Solutions Capital Area helps Central Texas companies identify and implement upskilling strategies for local and national firms moving to Texas."
The Hire Local Summit also featured a panel of engaged and responsible executives, moderated by Laura Huffman, President, and CEO of the Greater Austin Chamber of Commerce, to discuss challenges and opportunities for local employers. Joining Laura were:
Joe Cooper, Training Director at Plumbers & Pipefitters Local 286.
Sharon Mays, owner of Baby Greens.
Clara Neri, Technical Project Program Manager in Talent Development at Applied Materials.
Geronimo Rodriguez, Chief Advocacy Officer for Ascension Seton.
One big thing: Our event culminated with the announcement of some very good news. The City of Austin and Travis County are granting millions of dollars in new resources through the American Recovery Fund to WFS Capital Area!
Funding will provide scholarships for job training, scholarships for childcare, transportation support, access to apprenticeships, and critical career guidance to local workers impacted by the pandemic.
My sincere thanks to our speakers and to Texas Mutual Insurance Company for sponsoring our event.
I also want to thank the team at Adisa Communications for their generous support in making this event happen. For the big day, they transformed our Board Room into a sound stage! Check out some "behind the scenes" images on our Facebook or LinkedIn pages.
Did you miss the Hire Local Summit, or did you attend and want to view again? You can watch a recording on our YouTube channel.