The severe winter weather that struck Austin in late February left many residents without water for days. While the City of Austin worked hard to fix pipes and get the water flowing again, Workforce Solutions Capital Area partnered with Austin Public Health to distribute bottled water to child care providers on February 22 at the First Workers Day Labor Center. One hundred eight providers from all around the Austin metro area signed up.
In one day, our staff prepared 10 pallets of water for 108 providers caring for 5,591 children. Those 10 pallets equaled about 750 cases, or 18,000 bottles of water!
"I was so worried about being able to provide drinking water for the kids and staff, but this was such a relief," said one provider. "Thank you so much for doing this and helping us!"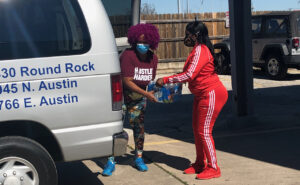 Workforce Solutions Capital Area is committed to supporting providers in Austin who care for the children of our region's workforce. By providing care in a safe and nurturing environment, Austin's child care providers are helping to develop a future workforce that is skilled and productive. Learn more about how we support child care providers on our website.