3-minute read
In this letter: Our new analysis breaks down local workforce supply and demand, and TWC Chairman Bryan Daniel speaks on WFS' apprenticeship program to prepare residents for high-demand healthcare careers.
🙏 With gratitude: WFS' board of directors met Thursday for our annual retreat. We talked about strategies to further support local workforce development, including Austin's soon-to-launch Hire Local Plan.
We thank you for your guidance, compassion, and innovative thinkingas we seek to make the most impact in our community.
Were you forwarded this email? Sign up to receive my weekly updates here.
In partnership, Tamara.
---
1. WFS analysis: Where are the workers in Austin?
A new Workforce Solutions Capital Area (WFS) analysis breaks down hiring demand versus the supply of unemployed workers by key industry in the Austin metro.
Why it matters: The Austin metro enjoys one of the lowest unemployment rates in the nation, with a record-setting number of residents employed. However, many sectors are reporting difficulty finding skilled talent to fill critical roles.
By the numbers:
In the latest disaggregated unemployment data for October 2021, there were 44,568 total unemployed workers in the Austin MSA labor force.
Comparatively, as of October 2021, there were 61,602 unfilled online job postings in Austin MSA (regardless of when they were posted), according to Burning Glass Labor Insight.
Zoom in: The widest gaps between the unemployed and unfilled jobs are within Community Workforce Plan targeted industries such as tech and healthcare.
Caveat: Skilled trades (construction/transportation/utilities) as well as manufacturing job ads are often not through online job postings but offline channels and word of mouth. The "true" hiring demand in these industries likely isn't captured by the total job tallies.
Also, manufacturing and tech job postings are often blurred in job postings data.
Of note: The highest degree attainment for the majority of unemployed workers previously in these focus industries — except Professional, Scientific, and Technical jobs — is less than an associate's degree.
This data suggests many unemployed workers may need further training or education to advance in these industries.
Bottom line: Austin area businesses are hiring, many opportunities are available, and workers in our area earn what they learn. However, residents motivated to take these higher-pay positions often lack the required skills.
WFS continues to offer services and supports for local employers and job seekers to move residents into higher-skilled jobs offering higher wages.
By better preparing local workers for in-demand jobs, companies can fill their roles at a lower cost, and the community can see economic benefits as a result.
Employers and job seekers can reach out to us to get started.
---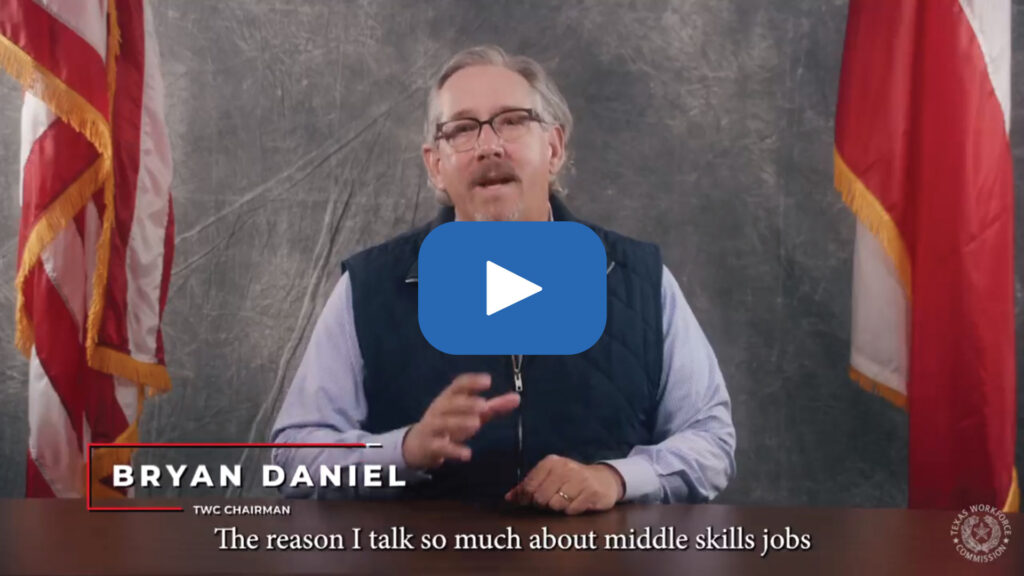 2. TWC Chairman: How Workforce Solutions Capital Area's apprenticeship program is preparing residents for high-demand healthcare careers
In a new video, TWC Chairman Bryan Daniel spoke on Texas' success creating new apprenticeship training programs — including one through Workforce Solutions Capital Area.
The big picture: Apprenticeships are a proven model to prepare residents for higher-paying middle-skill jobs. These jobs require more than a high school diploma but less than a college degree, such as an industry-recognized certification.
An estimated 54% of jobs in Texas are considered middle-skill level, yet only 45% of Texans have those credentials.
Why it matters: Employers pay competitive wages but lack applicants with the skills needed to make a hire. Apprenticeships address difficult-to-fill roles and are a strategy to attract and retain talent.
Zoom in: To help address an exacerbated skilled healthcare worker shortage in Central Texas, TWC has awarded $540,000 in ApprenticeshipTexas Expansion grants to WFS.
WFS is partnering with Austin Community College, Baylor Scott & White Health, St. David's, and Austin Regional Clinic to expand registered apprenticeship programs for middle-skill healthcare professions like medical assistants and patient care technicians.
The program goal is to train 270 apprentices.
By the numbers:
65% of healthcare jobs in Travis County are middle-skill, according to a WFS industry analysis.
"And when you consider there are more than 100,000 healthcare jobs in Travis County — well, that's a lot of jobs," said Chairman Daniel.
Spread the word: Residents interested in a healthcare apprenticeship can start here (no experience required!).