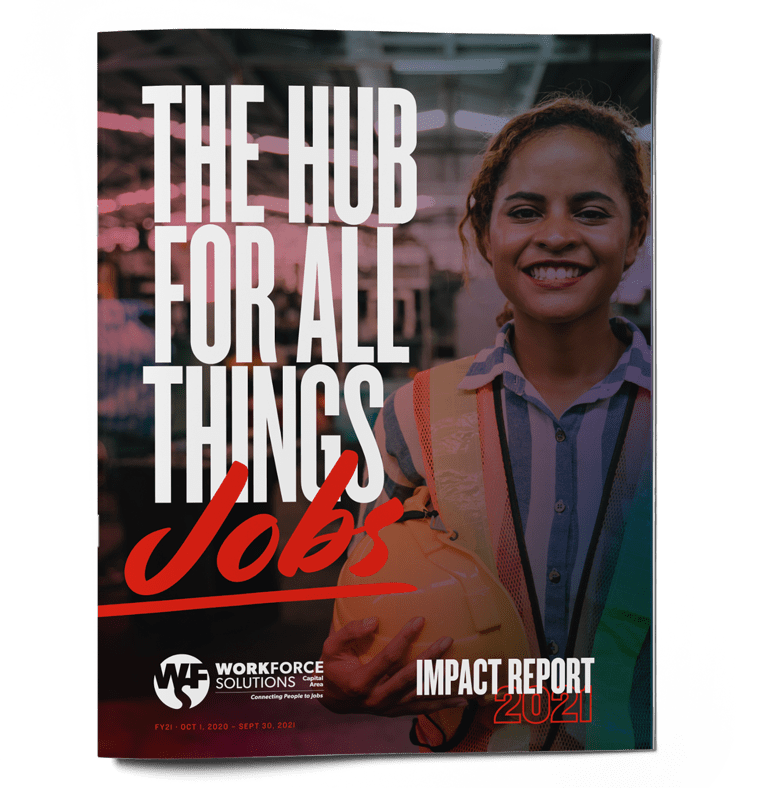 Workforce Solutions Capital Area
2021 Impact Report
Two long years after the pandemic first struck our region, it looks like we're finally coming out on the other side. Today, the local economy is booming and many employers are hiring. Still, not everyone is benefiting from the growth and opportunity that has blessed our great city. Equity and skills gaps have become even more exacerbated.
Our community has a growing affordability crisis and yet there are more good, high-paying jobs available than skilled workers. But there is a bright spot: individuals who complete training through Workforce Solutions Capital Area increase their annual wages by an average of $30,000.
In many cases, scholarship funds are available for workers who want to obtain training that can increase their earning potential and help them compete in the current and future job market.
Here's the bottom line: We haven't stopped pushing forward our mission to connect local people to local jobs, and we're only scaling up. I'm thankful for the 37 WFS team members and many community partners — both new and longstanding — working with us to respond to the needs of now.

5-YEAR IMPACTS (2016-2020)
Austinites are better off after receiving our services
▲$118M
Total increased earnings for our customers post-program exit
$456M
Total earned by our customers post-program exit
15,810
Adult workers served
12,595
K-12 students reached
5,063
Children received child care scholarships
We have more training scholarships available than ever in the history of our agency.
$12.3M
Provided to WFS Capital Area through American Rescue Plan Act (ARPA) funding from the City of Austin and Travis County for the continuation of RE:WorkNOW
RE:WorkNOW is a rapid response workforce development program administered by WFS Capital Area.
70%
Of adult clients found employment in their field of training
5% increase from FY20
224%
ROI for every dollar invested in training
$1.2M
Invested in upskilling local businesses' current workforce
Workforce Solutions Capital Area is a critical part of the Central Texas employment ecosystem.
It is exciting to see the board and staff at Workforce Solutions Capital Area pushing the envelope…
Workforce Solutions' Hire Local Plan and the ideas and strategies that come out of it are so critical to our community.
Workforce Solutions is all about equipping workers with those skills that open doors for the higher-paying jobs.
Workforce Solutions is Austin-Travis County's go-to resource for connection to higher-paying opportunities, such as the many transit and construction jobs tied to Project Connect.
During the pandemic, healthcare needs changed in our region, as well as throughout the country…  Employers began investing in training that will enhance the future workforce with support from Workforce Solutions Capital Area.
Tech businesses and workers can rely on Workforce Solutions Capital Area to help build connections and opportunities to be more productive.
I'm grateful to work with Workforce Solutions Capital Area to address employers' critical hiring needs and skills gaps to create a steady and diverse pipeline of talent.
To address the longstanding shortage of skilled trade workers, Workforce Solutions Capital Area joined the City of Austin and Travis County to provide no-cost, fast-track training for eligible residents to enter an in-demand career. Community efforts like these positively impact the Austin metro by providing good-paying jobs and keeping our community safe.
Manufacturing in central Texas is booming, led by semiconductors and electric vehicles. A highly skilled workforce is vital to their success. Workforce Solutions Capital Area has been an essential partner to grow and strengthen the talent pool.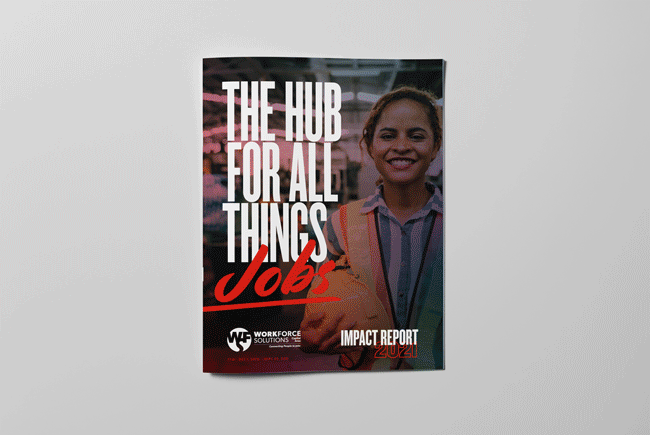 Read the full report for more on our work, partnerships, and labor market in 2021.