MFG JOBS NOW (in-person job fair)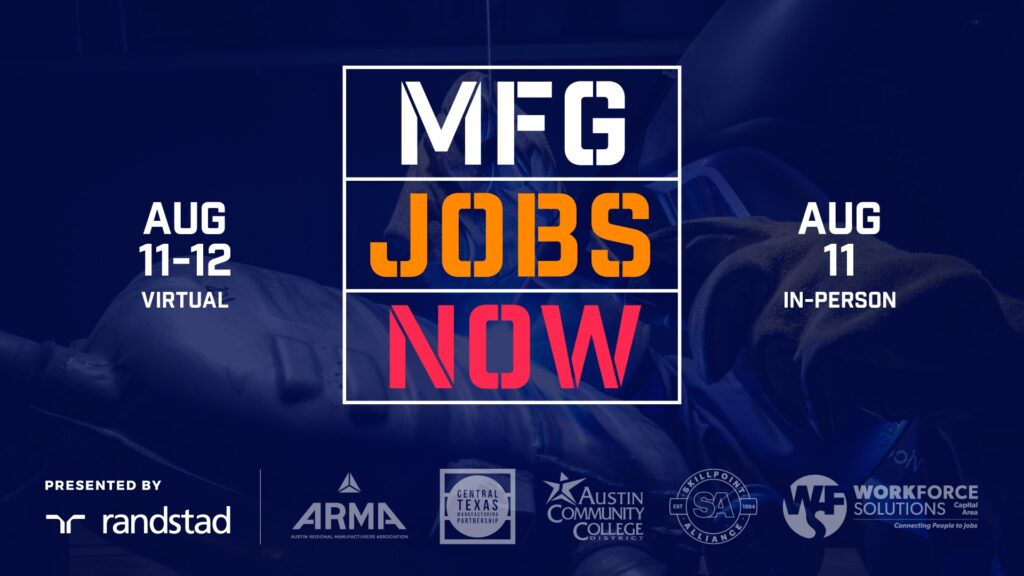 Start your Career in Manufacturing
The MFG JOBS NOW hiring event allows Central Texas students and job seekers to connect with manufacturing employers hiring now and learn about pathways to train for these in-demand careers.
✅ Connect with employers hiring now
✅ Learn about training providers to enter a career in manufacturing at no-cost
✅ Learn if you're eligible for child care assistance and financial supports while you train or look for a job
✅ Giveaways
Click here to register to attend this in-person job fair.
Presented by Randstad
Hosted by the Central Texas Manufacturing Partnership
Please note: we will have photo and video cameras present during the event. By attending this event, you consent to having your image captured by Workforce Solutions Capital Area and any attending news media.
Please register for a ticket if you are a job seeker. If you are an employer interested in participating, please contact us.
📍 Map It
Our thanks to our participating organizations:
Austin Community College
Skillpoint Alliance
ATX Specialty Foods
Austin White Lime Company
Balance Staffing
Builders FirstSource
Carr Lane
Clear Connect
Comet Signs
GSG Talent Solutions
Innovative Water Solutions
Intertech Flooring
NOV
Permalite
Premier Research Labs
ResourceMFG
Senox Corporation
TECO-Westinghouse Motor Company