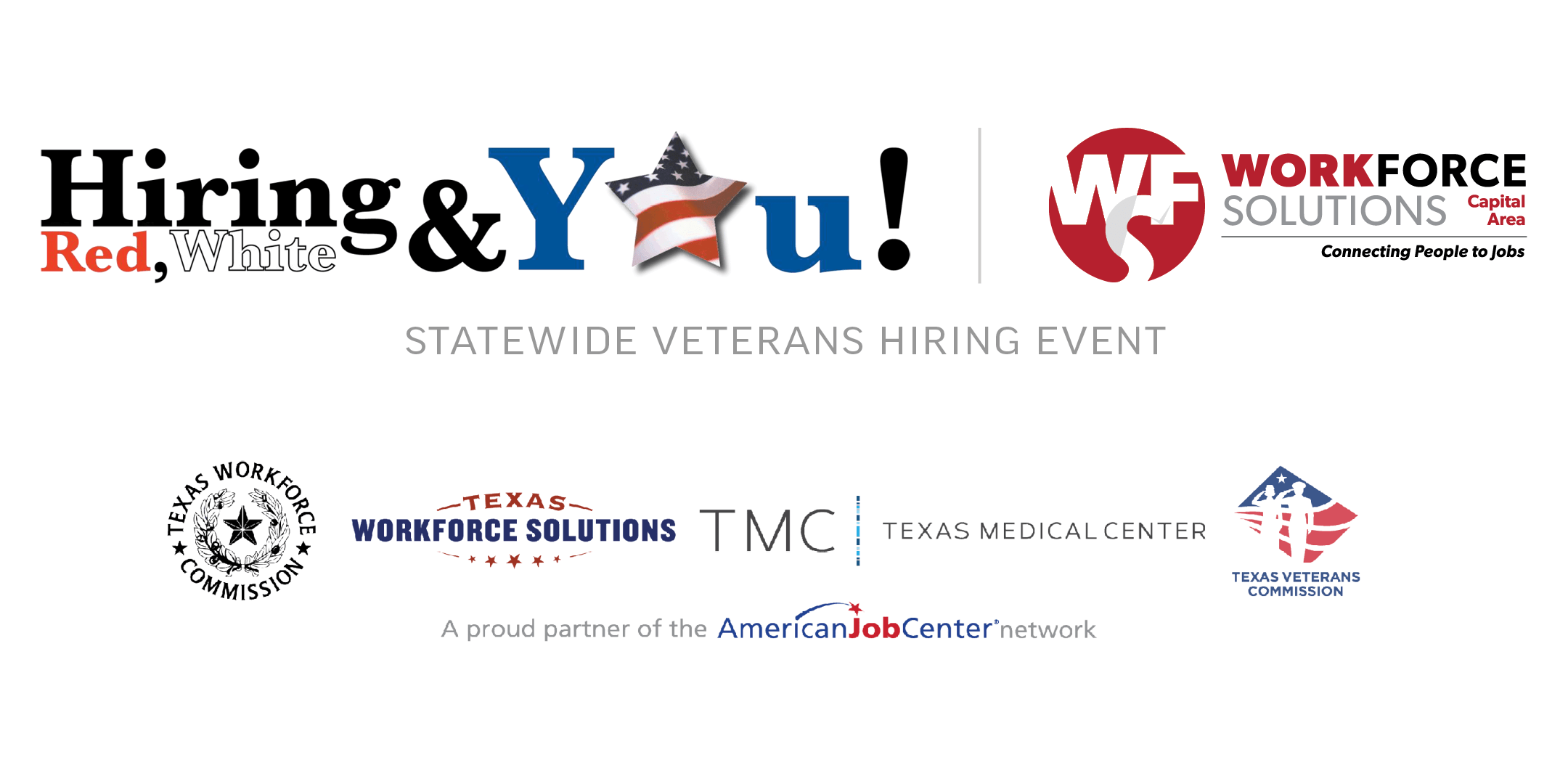 Hiring Red, White & You! (virtual)
You served your country, now let Texas serve you
Join the Texas Workforce Commission, Workforce Solutions, and Texas Medical Center for the 11th Annual Hiring Red, White, & You! Statewide Hiring Fair to connect transitioning service members, military spouses, National Guard, Reserve, veterans and their family members with employers hiring now.
✅ This event is open to the public.
✅ Connect with employers hiring now.
✅ Learn about no-cost trainings to enter an in-demand career.
✅ Learn if you're eligible for child care assistance and financial supports while you train or look for a job.
Our thanks to 2021's participating employers and training providers:
Austin Community College – Continuing Education

Accent Food Services

Adaptive Construction Solutions

All Team Staffing-Austin

Amazing Magnets

Austin Fire Department

Austin Nature Maid, LLC

Austin/Travis County Reentry Roundtable

Austin-Travis County EMS

Balance Staffing

Biomat USA Plasma Center

Building Promise USA

Capital IDEA

Child Inc

City of Austin

City of Austin PARD Aquatics Division

Clean Scapes Landscaping

Combined Arms

Comfort Keepers of Austin

Del Valle ISD

Denny's

Dripping Springs ISD

Dynamic Advancement

FedEx Ground

Frontier Enterprises

Gary Job Corps

Goettl Air Conditioning & Plumbing

Goodwill Central Texas

Hensel Phelps

Internal Revenue Service

Lower Colorado River Authority

Meals on Wheels Home Health

Miraval Austin Resort & Spa

Mobile Auto Clinic

Office of the Attorney General

PB Technology

Peak Performers

Pinnacle Logistics

Pinstack

Premium Retail Services

Priebe Security Services, Inc

Roscoe Property Management

Service Experts

SKILLSET

State Office of Risk Management

Sunstates Security

Texas Disposal Systems

Texas Health and Human Services

Texas Home Health

Texas Oncology

Texas School for the Blind & Visually Impaired

Texas State Guard

Texas State University

The Goddard School

The University of Texas at Austin

Tim Mahoney, Attorney at Law, PC

Touchpoint Support Services

Travis County Facilities Management Department

Tutor Doctor Lakeway

UPS

VIP AmeriCorps NCCC & FEMA Corps

Waffle House

Westminster

Whataburger

Woodforest National Bank